WELCOME TO OUR BIATHLON BEARS PROGRAMS FOR THE 22/23 SEASON!
Registration is closed but if you are interested in registering for this program please email [email protected] to see if there is still room!

Our Biathlon Bears Program runs as a fully integrated addition to our Track Attack Cross Country Programs.
Biathlon Bears is for participants aged 9-12. The emphasis will be on 'Learning to Train' through ski and target shooting skill development, fitness and teamwork. The majority of the ski-based skills you learn will be built during your Track Attack ski sessions.
Program Focus:
Nurture a team/social atmosphere.

Improve target shooting and ski technique through practice and the detection & correction of skills from our qualified coaches both on the trails and at the range.

Learn through games, relays, racing and terrain parks to develop technique, speed, skills and fitness.

Continue to develop confidence and safe rifle handling skills.

Learn to ski safely in a wide variety of conditions & terrain.

Begin to build fitness on skis.

Learn how to enjoy the process of competition and encourage participation in Biathlon and Cross-Country Ski races.

HAVE FUN.
Training Schedule & Fees
| | | | |
| --- | --- | --- | --- |
| | Bears TA1 | Bears TA 2 | Bears TA 3 |
| Age | 9-12 | 9-12 | 9-12 |
| Dates | Jan 14th – March 18th, 2023 | Jan 14th – March 18th, 2023 | Jan 14th – March 18th, 2023 |
| Ski Sessions | Sat 10:00-11:30 | Tue 18:00-19:30 Thu 18:00-19:30 Sat 10:00-11:30 | Tue 18:00-19:30 Thu 18:00-19:30 Sat 10:00-11:30 |
| Shooting Frequency | 1x/week | 1x/week | 1x/week |
| Shooting Sessions | 9-10am Saturday | 9-10am Saturday | 9-10am Saturday |
| | | | |
| | | | |
| Pricing worksheet | | | |
| XC Fee | $120 | $250 | $400 |
| Biathlon BC membership fee* | Variable | Variable | Variable |
| Biathlon Program Fee (includes rifle use and ammo) | $200 | $200 | $200 |
| Rifle/Ammo | Included | Included | Included |
| Total Program Price | $320 (+ BiBC Membership) | $450 (+ BiBC Membership) | $600 (+ BiBC Membership) |
*An Individual Membership to Biathlon Canada is additional and required to participate in club programs.
Please note that all program registrations close on October 31, if you are requiring a late registration please contact [email protected] 
Biathlon Bears is now open to young athletes aged 9 years old (as of Dec 31st, 2022)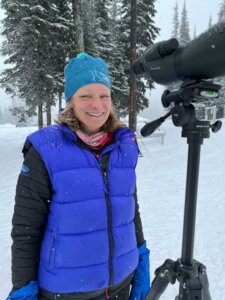 Avalon Richter
Coaching Experience: I have coached for 10 years (maybe more, I never really kept track).
Favorite Trail: Carl Wylie
Fun Fact: I love lasagna!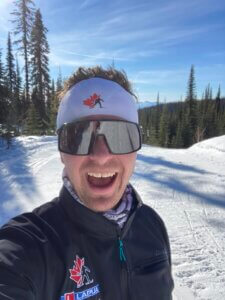 Eric Schryer – Biathlon Lead Coach 
Hailing from Sudbury, Ontario, Eric began his journey in skiing and biathlon by striding and gliding around his property with his parents. After discovering biathlon he patiently waited until he was old enough and then began learning to shoot in his local air rifle biathlon program. This quickly evolved to teaching himself how to shoot .22 rifles with a small group of athletes. After racing domestically, Eric was quickly scooped up by the coaching world. Eric began coaching with the Chelsea Nordiq ski & biathlon club. Along with leading this talented group of biathletes, Eric coached at the 2019 Canada Winter Games, and a multitude of Jr. IBU cups, IBU cups, and World Youth / Junior Championships with Team Canada. Eric is a member of Biathlon Canada's Domestic Committee and is continuing his education in the field of psychology.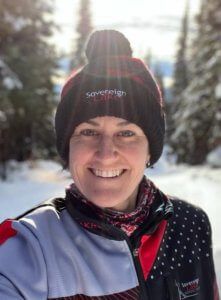 Head Coach: Jacqueline Akerman
A career ski and biathlon coach, Jacqueline has been involved as a high-performance coach for 25 years in a professional capacity. The Canada Winter Games started her off as both an athlete then a coach. As a former head coach of the Camrose Ski Club and Augustana University teams, she brings extensive and diverse experience to our programs. Jacqueline, a former Jr National Development Biathlon Team athlete, transitioned into a long-term leadership career with Biathlon Canada, coaching athletes, national and junior national teams at all levels, at countless national and international events, including Youth Olympic Games, four University Games, multiple World Cups, and Championships. Her role as Coach and Athlete Development Manager and Master Coach Developer has laid a foundation on which to build a strong training environment and talented athletes. Jacqueline is a member of Nordiq Canada's – Coach Technical Committee, proudly serving our members across the country. She has an undergraduate degree in Physical Education and a Master's degree in Coaching.
Sport has always been a focal point for Jacqueline – starting as a distance running athlete then skiing and biathlon, Jacq has a passion for the pursuit of excellence for herself and those around her, and this laid the foundation to be an incredibly skilled coach. "I learned from a young age that knowledge and long-term excellence come from hard – smart work, dedication, and patience. That the key to success in sport and in life is enjoying the work of continual improvement in technical, tactical, physical, mental and life skills, the best athletes are those that are very well rounded and love the pursuit of excellence through sport".
Biathlon BC: http://biathlonbc.ca
* Individual participants are responsible for additional costs and fees including (but not limited to):
Personal equipment
Personal wax
Team clothing
Training camp fees
Race licence(s): CCBC, BiBC
Race entries
Race/Event Trip fees (travel, accommodation, meals)
Upcoming Biathlon Bears demo days are open to any participant registered in Track Attack or Biathlon Bears programs. If you are not registered and are considering joining, please purchase a
Biathlon Canada / BC day licens
e
.
Dates:
October 15th: 1-3pm
November 12th: 1-3pm
December 10th: 1-3pm
Register on Zone 4