Sovereign Lake Nordic Club is committed to the long-term sustainability of our organization.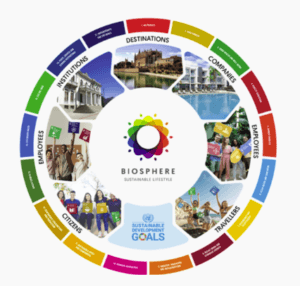 Biosphere is a Sustainable Tourism System certified by the Responsible Tourism Institute, an international certification body that maintains a Memorandum of Understanding with UNESCO, is affiliated with the World Tourism Organization, and is a member of the Global Sustainable Tourism Council. The system is aligned with the United Nations 17 Sustainable Development Goals and the Paris COP21 Accord to Fight Climate Change.
TOTA's Biosphere Commitment Program allows tourism industry stakeholders within the Thompson Okanagan to become involved. The Commitment Program follows a simple process in order to be recognized as a Biosphere Committed Company.
Sustainable Development Goals
The Sustainable Development Goals are a collection of 17 global goals designed to be a "blueprint to achieve a better and more sustainable future for all". They address the global challenges we face, including those related to poverty, inequality, climate change, environmental degradation, peace and justice.
We are seeking active and engaged community members to join our Sustainability Committee. Please contact Wendy Shannon, SLNC General Manager at
[email protected]
for more information and to join our team in creating a safer, environmentally and ethically more responsible, more inclusive of our marginalized communities, and community-engaged organization.