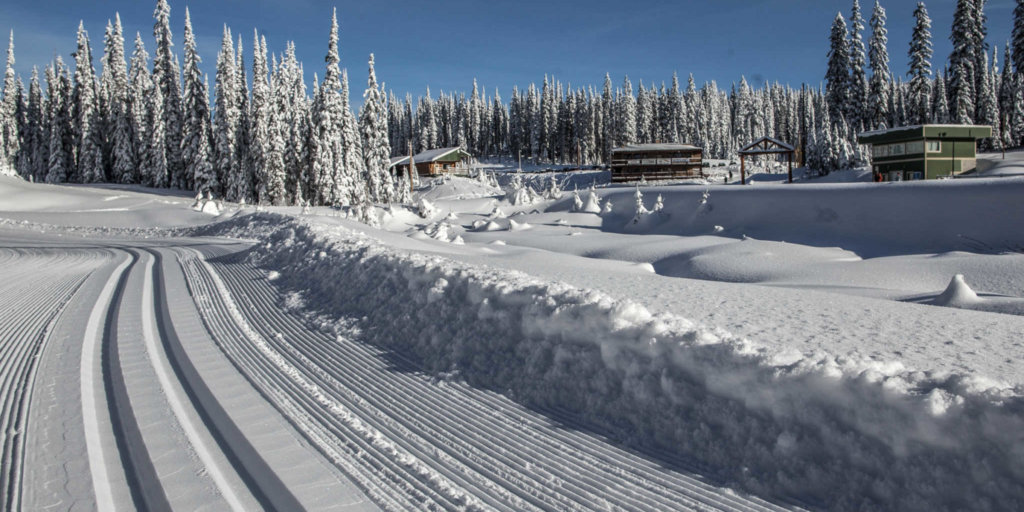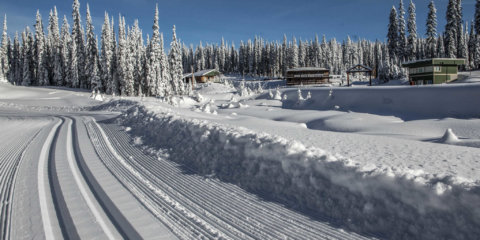 SKI FOR LIGHT CANADA 2018
SKI FOR LIGHT CANADA is an outreach program of the Sons of Norway, which organizes an annual event that pairs visually impaired skiers with a sighted guide, for a week of skiing, training sessions, and social events. Click on the MORE INFO link to launch the SKI FOR LIGHT Event Page. 
| | | |
| --- | --- | --- |
| Monday | 6pm | Meet and Greet |
| Tuesday | 10am-3pm | Official Training Day |
| " | 11am-1pm | Guide Clinics |
| " | 7pm | Music / Entertainment (in town) |
| Wednesday | 10am-3pm | Training Day |
| Thursday | 10:30am | 10km Classic Technique Race |
| Friday |  10:30am | 2.5 / 5km Classic Technique Race |
| Saturday | 10am-3pm | Free Day (no scheduled events) |
| | | |
Ski For Light (Canada) Inc. is an outreach program of Sons of Norway. The concept was the idea of a Norwegian named Erling Stordahl who had some sight as a child but became totally blind as an adult. This is how the idea came to him. During an army exercise, near a place in Norway called Beitostølen, some military vehicles had passed through leaving deep, wide tracks in the snow. He jumped into one of the tracks to try to ski in it. Later, he said, "It was an experience I will never forget! I followed the tracks to the end, approximately 10 km. I could ski without fear of colliding with anything. I felt a physical and mental relief. I felt like I had regained part of my eyesight. I could stop whenever I liked to enjoy the wonderful surroundings. I felt like a part of nature. My immediate reaction was that I must share this wonderful experience with my visually impaired friends."
In 1964 using this concept, Erling Stordahl began Ridderrennet (the Knight's race) in Norway. The concept was expanded by using two sets of ski tracks side by side so that a guide could ski with a blind skier to shout commands and let the skier know what was coming up, e.g. turns or hills. The program began in the USA in 1975 and, at that time, was called Ski For Light USA. Erling Stordahl was in attendance during the formation of both the USA and Canadian programs. In 1975, Annar Jacobsen from Vancouver, BC, took an interest in beginning such a program in Canada. By January of 1976, he and his wife, Synnøve, had started a ski club for the blind in the Vancouver area. In the summer of 1977, he contacted Nordic Lodge No. 76 in Castlegar, BC to see if they would take on the task of hosting the first SKI FOR LIGHT in Canada. Annar says, "They took up the challenge and did a great job." The first Canadian Ski For Light event was held in February, 1978, at Nancy Greene Lake, a 20 minute drive from Castlegar. Erling Stordahl and his guide, Inge Morisbak, had travelled from Norway to be there. It was a weekend event and, at that time, all participants were billeted in private homes. Later that year (November, 1978), the inaugural meeting of Ski For Light Canada was held in Edmonton, Alberta. Einar Berg, at that time the Secretary of the US Ski For Light, attended that meeting and was influential in the formation of the Canadian program. Although the Canadian Ski for Light actually began in 1978, the official incorporation took place in Edmonton on February 4, 1981. Kaare Askildt was elected President and Annar became the Vice President.
Many changes have taken place since that time. Ski For Light Canada now has a six day event which incorporates lots of skiing, fun skiing, training sessions, social evenings (e.g. team races, waxing clinics, guiding clinics, visually impaired talent night, entertainment night, quiz night) and culminates with the race on the Saturday followed by the awards banquet and dance that evening. Local and other dignitaries are invited to the banquet. Gold, Silver and Bronze medals are presented to the race winners in various categories. The basic categories for the visually impaired are B1 (no vision) B2 (0-5% vision) and B3 (5-10% vision). There are other categories that depend on the degree of disability – and there are shorter and longer races, male and female categories, and different age categories. Beginning in 1997, four gold "Relay Race" medals were presented to the winning team in a relay race. They were called the "Ivar Reinsbakken Relay Race" medals to honour a man who had dedicated much of his time to Ski For Light in Canada. In 2006, the name was officially changed to "Team Race" as it had become a race within a race to prevent long waits in the cold. They are now called the "Annar Jacobsen Team Race" medals in honour of President Annar Jacobsen who was the real "push" behind the formation of the program in Canada. Teams usually consist of a four member team from different areas, e.g. British Columbia, Alberta, Saskatchewan, the United States, and other countries such as Norway, England and Australia. Team members may be "borrowed" to make up the right number and each team must contain at least one B1 person. In addition to the medals, awards or trophies are presented to the most improved skier and to the winner of the "Guesstimation" (the person who comes closest to guessing their actual time on race day).
The event is held in January or February of each year. The site is chosen by the Ski for Light Board and all arrangements are made by them in co-operation with a Sons of Norway Lodge and/or local ski club. We endeavour to hold it at a different site each year in order to make more people aware of this unique program.
The average attendance is 50 skiers and 50 guides, as well as the Ski For Light Board and others who assist with the event. There can be a few less or a lot more, depending on various factors such as where the event is held. Skiers and guides are encouraged to join and participate in the program throughout the year, and especially during ski season, with the main focus being on the annual event. Although participation is growing immensely, some of the faces at that first Canadian Ski For Light in 1978 are still seen at events today.
Event Navigation