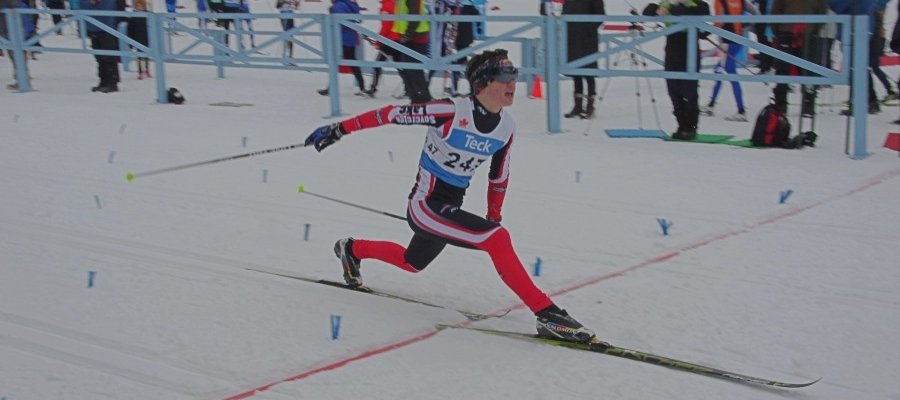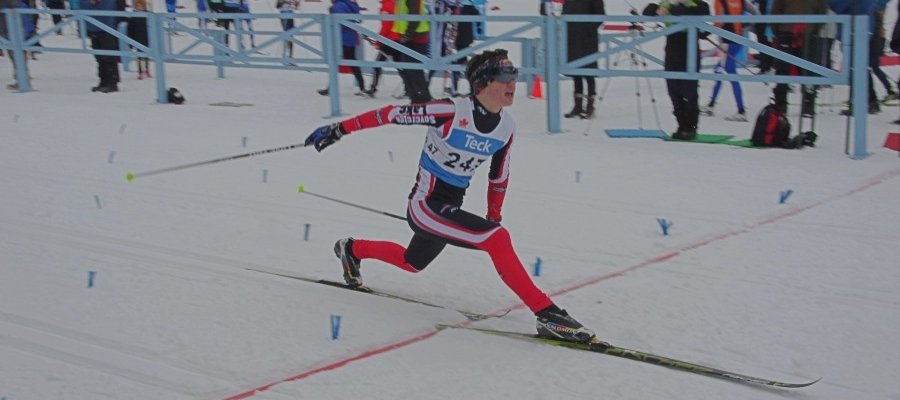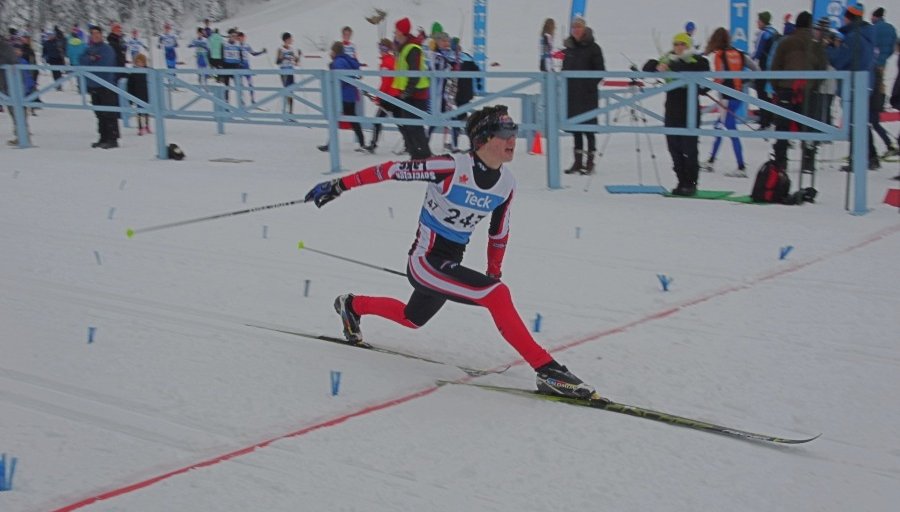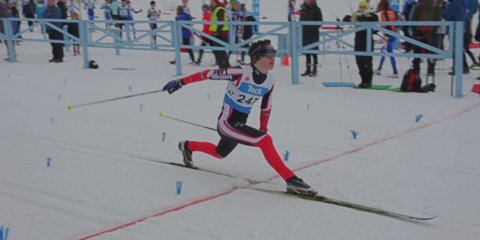 March 14 @ 5:30 pm
-
8:00 pm
Spaghetti Dinner Nationals Fundraiser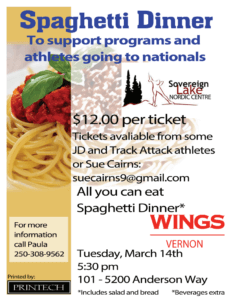 Event Navigation
Sovereign Lake Weather Station
 Weather Conditions for November 22nd, 2017
 Snow Report as of November 22nd, 2017
Additional snow falling as of noon.
| | |
| --- | --- |
| New Snow (last 12 hrs): | 1cm |
| New Snow (last 24 hrs): | 1cm |
| Total Packed Depth (In Stadium): | 24cm |
| Annual Snowfall to Date: | 79cm |
| Wax of the Day: | Grip: – violet  Glide: – violet |
Upcoming Forecast
Partly Cloudy

Clouds and some sun this morning with more clouds for this afternoon. High 2C. Winds light and variable.

Rain

Cloudy and damp with rain in the morning...then becoming partly cloudy. Thunder possible. Morning high of 3C with temps falling to -3 to -1. Winds SSW at 15 to 30 km/h. Chance of rain 90%.

Partly Cloudy

Cloudy early with partial sunshine expected late. High -1C. Winds S at 10 to 15 km/h.
Are you a weather junky looking for more detail, including weather history?  We are now on
weather underground
, also with wunderground apps also available.
Trail Report
Call Snow Phone
Please be advised that our Snowshoe Trails and Backcountry Ski Trails are not yet open. Watch the trail report page for updates.
Novice
Open
Last Groomed
Notes

Wylie's Loop

Wylie's Loop

A short and fun connector trail for skiers of all ages.

Open

Today

Woodland Bell

Woodland Bell

4.3 km is our most skied trail with perfect terrain for you and your family.

Open

Today

Sovereign

Sovereign

1.25km is an easy trail with a couple of fun little hills.

Open

Yesterday

Passmore

Open

Today

Northern Lights

Northern Lights

3.5km utilizes parts of Passmore and Wylie's Loop connecting them through the stadium. Enjoy evening skiing (Tuesday through Thursday) under the warm glow of the lights.

Open

Today

Jessica's Trail

Jessica's Trail

A beautiful backcountry type classic ski trail that twists and turns through beautiful Spruce and Balsam stands. Named in memory of Jessica Eaman, a huge supporter of youth programs at SLNC.

Closed

Half Sovereign

Half Sovereign





Open

Yesterday

Comin' Round the Mountain

Comin' Round the Mountain

Open

Today
Intermediate
Open
Last Groomed
Notes

Maid of Vernon

Maid of Vernon

2.5 km loop offers ideal rolling curvy terrain.

Open

Yesterday

Carl Wylie Trail

Carl Wylie Trail

6.8km loop is guaranteed to be a new favourite; designed by Carl's son Don. It is a great way to experience Black Prince cabin as well as some scenic views of the Shuswap Valley. It's an amazing ski at sunset!!

Open

Today

Black Prince

Black Prince

5.6 km loop offering a moderate downhill run including a couple of thrilling corners. After visiting the Black Prince cabin the invigorating climb will get your heart going. The additional 1.3km loop from the cabin towards Lars Taylor features a steep climb followed by an exhilarating downhill.

Open

Today
Advanced
Open
Last Groomed
Notes

White Elephant

White Elephant

5.2km loop is the longest of the Zuma's with the same great terrain.

Open

Yesterday

Upper World Cup

Upper World Cup

5km of amazing terrain with large rolling hills and a couple of thrilling high speed downhill corners.

Open

Yesterday

The "Zuma's"

The "Zuma's"

Start at the far end of the stadium and offer what many consider to be the best terrain around. These trails are characterized by fun downhills which lead seamlessly into invigorating uphills.



Closed

Silver Queen

Silver Queen

9.9km loop is a true wilderness experience connecting Black Prince to the Prince of Wales trail with one long, fun downhill and a long rolling climb.

Closed

Prince of Wales

Prince of Wales

4.5km loop offers an exciting downhill (one of our best) followed by a rolling climb back to the lodge.

Closed

Montezuma's Revenge

Montezuma's Revenge

2.3km is a great additional loop (starts and ends at the same place) with amazing humps, bumps and curves.

Closed

Not Groomed

Montezuma

Montezuma

2.3km offers a fun and challenging downhill linked to a vigorous climb.

Open

Yesterday

Lower World Cup

Lower World Cup

3.5km is a minor alteration on the real Lower World Cup. Access using Montezuma and then stick to the inner connectors around White Elephant

Open

Yesterday

Lars Taylor

Lars Taylor

12.5 km loop up Aberdeen and down Lars Taylor. This route leads to the summit of Silver Star Mtn where you can enjoy great views of the Vernon Valley and an exhilarating downhill either back the way you came or on Lars Taylor. (Access to Silver Star Mountain Resort)

 

Open

Today

Gold Mountain

Gold Mountain

2km (each way) is the most direct connection to Silver Star Mountain Resort. Groomed after every snowfall.

Open

Today

Aberdeen

Aberdeen

12.6 km loop is a slightly longer way over the mountain via the Black Prince Cabin and up Lars Taylor which provides a challenging climb to the summit and another thrilling descent down the Aberdeen side of the loop. (Access to Silver Star Mountain Resort)

Open

Today
| | Snow Shoe | Open | Last Groomed | Notes |
| --- | --- | --- | --- | --- |
| | Wild Goose | Closed | | |
| | White Rabbit | Closed | | |
| | Trapline | Closed | | |
| | Ridgeline | Closed | | |
| | Cabin Fever | Closed | | |
Backcountry
Open
Last Groomed
Notes

Upper Kennedy

Closed

Powder Queen

Closed

Passmore Connector

Closed

Mystery Express

Closed

Lower Kennedy

Lower Kennedy





Closed

Coyote Caper

Closed

Beth's Trail

Closed

Alder Trail

Closed