Welcome to the 3rd Annual Spring Fling Ski Camp!
This camp will be taking place a bit earlier this year from May 4-7th, 2017. We need to ensure you have a great ski experience and moving this event up will provide greater access to an expanded network of trails. The last two years have been cutting it pretty close for the snow going isothermic. In fact, the last two years we have quite literally lost our snow the day after the camp.
There has been significant snowfall throughout the last 3rd of the season and  has increased our odds significantly for good May conditions.
This year we are selling single day passes as well as weekend only passes!!
Registration is live so click on the REGISTER HERE tab to get in on the action.
As an addition to the format we will put on a fun Classic Time Trial on Saturday May 6th at 10am. The course will be determined by conditions available at the time and the maps page will provide updated info on accessible trails for training and racing.
To view accommodations specials CLICK HERE. Pinnacles (located at SilverStar Resort) is offering $50pp/night options for all camp participants!
We look forward to hosting on the snow once again this year. Register early as we are limiting access to 200 people. Contact Troy Hudson (General Manager) for more details at [email protected] or (250)558-8916.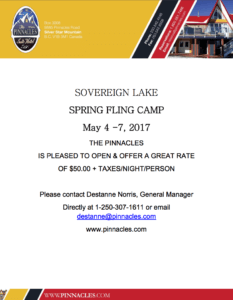 Woodland Bell, Carl Wylie, Black Prince and Passmore will be open for the camp, constituting roughly 15km of daily groomed skiing. Prep is underway and it is shaping up to be a fantastic camp.
We will provide more details on available trails as we near the event dates. Also check the Trail Report Page for updated information.
| | | |
| --- | --- | --- |
| May 4th | Ski Access | 7:30am – 2:00pm |
| | ATC Gym Access | 3:00pm – 6:00pm |
| May 5th | Ski Access | 7:30am – 2:00pm |
| | ATC Gym Access | 3:00pm – 6:00pm |
| May 6th | Ski Access | 7:30am – 2:00pm |
| | Classic Time Trial | 10am |
| | ATC Gym Access | 3:00pm – 6:00pm |
|  May 7th |  Ski Access |  7:30am – 2:00pm |
The gate will be locked at 2:15pm daily. 
Register on Zone4 HERE!
There will be day passes sold from the lodge for $20/day for 2017.
| | |
| --- | --- |
| 4 Day All Access Pass | $70 |
| GUEST Weekend Pass | $35 |
| SLNC Member Weekend Pass | $30 |
| Single Day Passes | $18 |
Register online at Zone 4.