People love having the ability to represent their favourite ski club (that's us BTW)  by wearing our club warm-up jackets, base layers, and toques or slapping a Sovereign bumper sticker on their car or ski box. While we do not have an online sales platform in place quite yet (we will get there), we do have the ability to mail product to our ski fans. Check out some of our offerings below.
SLNC Club Warm-Up Jackets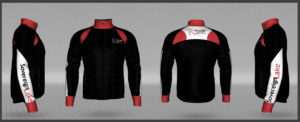 You can now direct order your warm-up jacket through the Jakroo Online Store! You even get the 6-12 unit price break as an SLNC member. BONUS! Click on THIS LINK to order yours today at just $138 +tax.
Sovereign Lake Race Team Kits

Available to everyone, the new plaid race suits, warm-up jackets and vests are a HUGE hit at the races. Click on THIS LINK to take you to the Team Store.