Cross-Country Skiing for people with disabilities
Not many sports are so closely connected to nature as cross-country skiing – experiencing the natural beauty is one of the greatest benefits of the sport, and can have an invigorating effect on the body, mind, and spirit. A variety of emerging accessible avenues for people living with disabilities makes recreational or competitive cross-country skiing pursuits an option for more of the community.
Sovereign Lake Nordic Club is proud to share an ongoing partnership with Community Recreational Initiatives Society (CRIS) Adaptive Adventures to offer adaptive cross-country skiing and snowshoeing options on our trails.
Sovereign Lake Nordic Club is equipped with accessible parking, washrooms, and access to adaptive equipment to help more people experience our sport.
WHO IS CRIS?
CRIS Adaptive Adventures is a unique and local organization helping people living with disabilities break down any barriers to outdoor recreation and sport. For over 20 years, CRIS has empowered thousands of people living with a range of physical, developmental, cognitive and sensory impairments to reach their goals. CRIS utilizes their dedicated volunteers and vast fleet of highly adaptive equipment to help clients reach new heights and make positive impacts in their lives. CRIS' program structures are not fixed, and can offer varying levels of physical, emotional, social, or educational support to meet everyone's needs. CRIS replaces isolation with friendship, disability with possibility, and stagnation with improvement.
CROSS-COUNTRY SKIING
Regardless of abilities we can make cross-country skiing a reality for anyone. Thanks to the Tetra Society we have access to many different kinds of adaptive cross-country skis and sleds (see "the fleet" below), this equipment combined with CRIS volunteer's years of experience and knowledge in adaptations we are able to suit all needs for a fun and, if desired, challenging outdoor winter experience.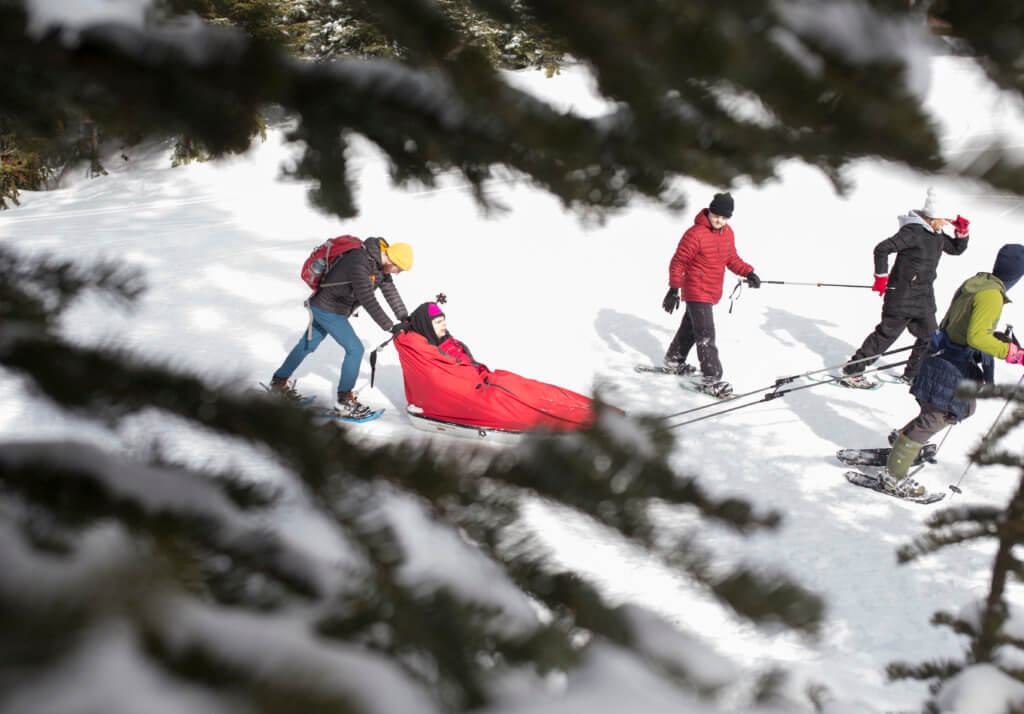 SNOWSHOEING
Adaptive snowshoeing utilizes various types of snowshoes and stabilizing poles for an array of abilities. While participants need a basic level of lower extremity mobility to partake in snowshoeing, it is a great activity for many people with disabilities to develop skills and have fun. We have guides for participants who are visually impaired and buddies for those who need some guidance or supervision.
GET INVOLVED
CRIS Adaptive Adventures is always in need of 'able-bodied' skiers and snowshoers who can volunteer a few hours. All participants and volunteers are required to complete and return a registration package before departing on an Adaptive Adventure; learn more and find the registration packages on the CRIS Adaptive Adventure website.
Also, please LIKE our Facebook
Sovereign Lake Nordic Club is accessible, with wheelchair parking; accessible washrooms; and equipment available upon request at the office if you wish to explore without the assistance of CRIS volunteers. Wheelchair parking is in front of the ramped Sovereign Lake Nordic Club and in the lower parking lot.
For more information about how access the facilities as a disabled skier with your own equipment, please call or email Sovereign Lake at:  250-558-3036
Supporters of CRIS Adaptive Adventures Cross-country Skiing and Snowshoeing.
To participate or volunteer call or email us, contact CRIS Adaptive Adventures:
Email: [email protected]
Website: CRIS Adaptive Adventure
Social media:  Facebook | Instagram
Phone: (250) 979-3941