WELCOME TO OUR BUNNIES  PROGRAM FOR THE 2023/24 SEASON!
Join our coaches in the bunny bowl for an enthusiastic introduction to skiing for your youngster. Balls, hoops, short adventure trails, and songs are all part of this intro level. Your young skier will learn balance, agility, and rhythm, the FUNdamentals of skiing.
All of our youth programs are designed around Sport Canada's Long Term Athlete Development principles and Cross Country Canada's program guidelines. The Bunnies are in the "Active Start" stage of athlete development (children 6 years of age and younger).  The objective is to introduce cross-country skiing and the healthy lifestyle associated with it through organized activity and active play.
Bunnies Program Goals:
Help children develop a positive self-image.
Be fun.
Provide children with an opportunity to make ski friends.
Develop fundamental movement skills.
Help children develop an awareness and appreciation of our natural environment.
All participants will be registered in Club Championships as part of the registration/program cost.
* This is a parent participation program: each parent/guardian must accompany their child throughout each lesson. Parents' rentals and trail passes are included in the program fee during program time. Please no "strap-on skis" and parents/guardians lead by example and enjoy the class with skis on too.
* An SLNC season's pass is required for participants in this program if 6 years of age or older, 5 and under do not need a season's pass.
* Inclusiveness is an SLNC value and priority. Instruction for children with special needs is part of the Bunnies programs. Please contact the Programs Coordinator to discuss any needs that your child has so that we can set them up for success.
Program Details
 

Bunnies

Ages 2-5 yrs old

 Notes
Dates
January 6, 2024-March 16th, 2024

Cold weather cut-off for "Active Start" is  -12*C.

Total # of Sessions
10
Sessions per Week
1
Day
Saturdays 10:30-11:30
Lenght of Sessions
1-hour
Location
Sovereign Lake Nordic Club – Meet at the 'bunny bowl' across the stadium.

Technique

Classic "no poles"
Cost
$90
Registration Deadline
October 31 2023 or until program capacity is reached (whichever comes first)

Parent Athlete Orientation/Information Session:

December 16th at 10:30
No formal programming:
Coaching Course Opportunities:  
Intro to Community Coaching (ICC)
Community Coaching Course (CC)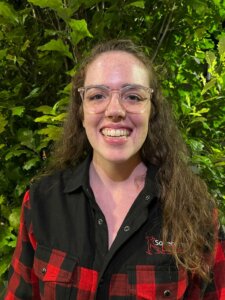 SDP Coach: Deirdra Frank
Deirdra grew up in Vernon skiing with her parents and has been part of the Sovereign Lake ski community for many years. She started out as an athlete on the cross country and biathlon teams, competing in numerous races and events as part of the SLNC Ski Team. Following her younger years of racing, she has worked at Sovereign instructing in our S'Cool Ski Program and as lodge front counter staff. More recently, Deirdra was co-leader for two seasons on the growing WinterFit Program at Sovereign Lake. Deirdra's love for this sport has only ever grown throughout the years. She is happy to combine sports with her business management degree.
"Sovereign Lake is like a home away from home for me."
Volunteer Coaches
Tima Coad
Coaching Experience: Second year coaching Bunnies
Favorite Trail: Northern Lights when the rollers get nice and big!
Fun Fact: I have fun by dressing up for every lesson :)
Leah Volkers
Coaching Experience: I used to volunteer to coach U35s – around 2016. This is my first year coaching bunnies.
Favorite trail: Silver Queen (counter-clockwise)
Lina Augaitis

Coaching Experience: This will be my first year coaching at Sovereign
Favorite trail: Aberdeen
Fun Fact: I am a world champion stand-up paddleboard racer
Jean Polfus

Coaching Experience: 2 years of Bunnies at Sovereign Lake, 1 year of 10-12-year-olds in Winnipeg, and 1 year of high school in Colorado
Favorite Trail: Jessica's Trail
Fun Fact: I lived in a remote community of the NWT for 6 years and could skijor with my dogs right from my house from Oct to May! I also got pretty good at keeping warm at -30C!
Mel Ouillette
Coaching Experience: This is my first year coaching!
Favorite Trail: The night loop
Fun Fact: I first learned to ski on the frozen lakes outside of Yellowknife where I'm from. Moving to BC and skiing is a totally different ball game with hills so I have been learning along with my kids.
Useful Links:
Tips for Parents and Guide to Cross Country Equipment
Facebook: Sovereign Lake Programs Gear Swap
Equipment: mitts, toque, buff, non-cotton long underwear, and snowsuits are appropriate for this age.
Rentals – A full selection of quality, affordable, classic and skate gear for all ages is available at SLNC. Special package prices are available for kids enrolled in Bunnies, Jackrabbit and Track Attack programs for use during formal program sessions. Please see SLNC staff for help. Rentals are available to Program Participants for $40/season
Retail – Stussi Sports in Vernon provides an excellent selection of quality kids and adults gear with advice to match. They also have a rotating "kids gear exchange" program and info on ski swaps. They are a huge supporter of our club, programs and events.
Equipment guide for parents: 
A child's first set of ski equipment should include a pair of no-wax skis with 'classic' length poles (with the pole tip in the snow, the pole height should reach the underarm).
Initial on-snow play does not require long skis. Skis should be approximately the same height as the skier.
It is better for the child to outgrow their ski poles than to grow into them.
Select a binding that is not difficult to operate, but is not prone to releasing either. If you select strap-type bindings used in conjunction with snow boots, ensure that all the straps are integrated into the binding construction. Loose straps have a way of getting lost.
Snow boots can be nice and warm, but unless they are laced up firmly, there is a risk of little feet coming right out of the boot. The boot will be securely fastened to the ski – and the young skier will be left standing in the snow wearing only socks.
If a child is on their second pair of skis, they may be ready to graduate to waxable skis.
"Bunnies" is a parent participation program: each parent/guardian must accompany their child throughout each lesson. Parents/Guardians are NOT required to have a day ticket or season pass during their scheduled program but if they are skiing on their own outside of the Program time they are required to either purchase a season's pass or purchase single-day ticket.
Where do Bunnies sessions take place?
Bunnies sessions start in the "Bunny Bowl" ski playground area beside the main stadium. Follow the large Bunny signs from the lodge to the Bunny Bowl.  Please ask front desk staff if further directions are needed.
How long are Bunnies sessions?
Bunnies program goals are achieved through short and lively one-hour sessions. This allows enough time for a "formal " session and some "free" time for independent exploring afterwards.  *Note that each session starts a bit later than Jackrabbits and Track Attack sessions in order to allow parents to get their children to different programs and still get to Bunnies on time.
What is the cold weather cancellation policy?
The cold weather cut-off for Bunnies is -12*C. In the event that a session is cancelled, notice will be posted on the Bunnies calendar by 8:30 am on Saturdays, otherwise, the session is running.
What skiing skills will my child learn?
Your child will begin learning the ready position, how to fall and rise, side step, star turn, tracking, herringbone, snowplow braking, and the first progression on diagonal stride.
What does a typical Bunnies session consist of?
Coaches use groups, gentle terrain, games, songs, hoops, balls, and bubbles to encourage natural learning and "discovery".
Is there a wrap-up event at the end of the program?
The formal season ends with a special Ski Tournament event.  The Ski Tournament is comprised of a morning of fun including relay races, obstacle bumps, and a ski on the jungle trail.
What if I, a parent/guardian, am just learning to ski…how do I accompany my Bunny?
The philosophy of the Bunnies program is to impart ski skills to both the young Bunnies and their parent who will ultimately be the ones taking them skiing outside of lesson times. No worries if you need some help getting started on skis yourself – we have "Program Parent" and "Getting Started" lessons that are designed just for you!
Check with our staff to line up one of our certified instructors who can help you with your own skiing skills.
Will my Bunny (or I) make good progress by skiing just 1x/wk in the formal sessions?
Every Bunny and parent progress at their own rate. While Bunnies sessions provide a great introduction to skiing and help you get started on key ski skills and support you along the way…you will improve quicker the more you get out and have FUN! We strongly encourage parents to take full advantage of our fantastic snow and trail system by getting out at least one other time during the week with their Bunny. A short ski following Saturday's formal morning session works well for many families.
Are the coaches certified and trained?
All our volunteer coaches are certified with Introduction to Coaching and Community Coaching Courses, following NCCP standards.
Register