Join our coaches in the bunny bowl for an enthusiastic introduction to skiing for your youngster. Balls, hoops, short adventure trails, and songs are all part of this intro level. Your young skier will learn balance, agility, and rhythm, the FUNdamentals to skiing. This is a parent participation class: one parent/guardian joins their child. Please no "strap on skis" and parent/guardians lead by example and enjoy the class with skis on too. Bunnies aims to:
Be fun
Help children develop a positive self-image
Provide children an opportunity to make ski-friends
Help develop essential motor skills
Help develop awareness and appreciation of our natural environment
Help guide parents in how to best help their young skiers develop
* This is a parent participation program: each parent/guardian must accompany their child throughout each lesson.
Program Details
| | | |
| --- | --- | --- |
| Dates | January 8, 2022-Mar 12, 2022 | Note: Cold Weather Cancelation guidelines Cold weather cut-off for Bunnies is -12*C. In the event that a session is cancelled, notice will be posted on the Bunnies calendar by 8:30am on Saturdays. Any "cancellation" will be posted by 8:30am., otherwise the session is running. Note: No session on February 26, 2022 due to BC Winter Games competitions at Sovereign Lake. |
| Total # of Sessions | 9 | |
| Sessions per Week | 1 | |
| Days | Saturdays 10:30- 11:30 | |
| Length of Session | 1 hour | |
| Locations | Sovereign Lake Nordic Club - meet at the 'bunny bowl' across the stadium. | |
| Technique | Classic (no poles) | |
| Cost | $85 | |
| Registration Deadline | October 31, 2021 | |
Skill Development Program Coordinator:  
Andrew Casey
Group Coaches:
Eric Wikjord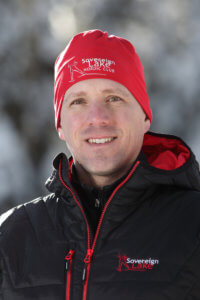 Favorite Trail: Jessica's Trail…because it's narrow like the ones I grew up learning to ski on.
Years Coaching: 15+
Why Coach?: Coaching is a great way to give back to the XC ski community that has given so much to me over the years.
Favourite Food?
Words of Wisdom: Kick and glide, then let your skis do the work.
Andrew Casey
Favorite Trail:
Years Coaching:
Why Coach?:
Favourite Food?
Words of Wisdom:
Demian Carson
Favorite Trail:
Years Coaching:
Why Coach?:
Favourite Food?
Words of Wisdom:
Jean Polfus
Favorite Trail:
Years Coaching:
Why Coach?:
Favourite Food?
Words of Wisdom:
Shane Pearce
Favorite Trail:
Years Coaching:
Why Coach?:
Favourite Food?
Words of Wisdom:
Useful Links:
Tips for Parents and Guide to Cross Country Equipment
Equipment : mitts, toque, buff, non-cotton long underwear, and snowsuits are appropriate for this age.
Rentals – A full selection of quality, affordable, classic and skate gear for all ages is available at SLNC. Special package prices are available for kids enrolled in Bunnies, Jackrabbit and Track Attack programs for use during formal program sessions. Please see SLNC staff for help. Rentals are available to Program Participants for $50/season
Retail – Stussi Sports in Vernon provides an excellent selection of quality kids and adults gear with advice to match. They also have a rotating "kids gear exchange" program and info on ski swaps. They are a huge supporter of our club, programs and events.
Q. Where do Bunnies sessions take place ?
A. Bunnies sessions start in the "Bunny Bowl" ski playground area beside the main stadium. Follow the large Bunny signs from the lodge to the Bunny Bowl.  Please ask front desk staff if further directions are needed.
Q. How long are Bunnies sessions?
A. Bunnies program goals are achieved through short and lively one hour sessions. This allows enough time for a "formal " session and some "free" time for independent exploring afterwards.  *Note that each sessions starts a bit later than Jackrabbits and Track Attack sessions in order to allow parents to get their children to different programs and still get to Bunnies on time.
Q. What skiing skills will my child learn ?
A. Your child will begin learning the ready position, how to fall and rise, side step, star turn, tracking, herringbone, snowplow braking, and the first progression on diagonal stride.
Q. What does a typical Bunnies session consist of ?
A. Coaches use group, gentle terrain, games, songs, hoops, balls, bubbles to encourage natural learning and "discovery".
Q. Is there a wrap up event at the end of the program?
A. The formal season ends with a special Ski Tournament event.  The Ski Tournament is comprised of a morning of fun including relay races, obstacle bumps, and a jungle trail.
Q. What if I, a parent/guardian, am just learning to ski…how do I accompany my Bunny?
A. The philosophy of the Bunnies program is to impart ski skills for both the young Bunnies and their parent who will ultimately be the one taking them skiing outside of lesson times. No worries if you are need some help getting started on skis yourself – we have "Program Parent" and "Getting Started" lessons that are designed just for you!  Check with our staff to line up one of our certified instructors who can help you with your own skiing skills.
Q. Will my Bunny (or I) make good progress by skiing just 1x/wk in the formal sessions?
A. Every Bunny and parent progresses at their own rate. While Bunnies sessions provide a great introduction to skiing and help you get started on key ski skills and supports you along the way…you will improve quicker the more you get out and have FUN! We strongly encourage parents to take full advantage of our fantastic snow and trail system by getting out at least one other time during the week with their Bunny. A short ski following Saturday's formal morning session works well for many families.
* Parent/Guardian accompaniment:
"Bunnies" is a parent participation program: each parent/guardian must accompany their child throughout each lesson. The parent/guardian must therefore be a current SLNC member by either purchasing a season's pass or a Parent Program Pass. You can also purchase single day passes.