WELCOME TO OUR JUNIOR DEVELOPMENT PROGRAMS FOR THE 22/23 SEASON!
Registration is closed but if you are interested in registering for this program please email [email protected] to see if there is still room!
All of our youth programs are designed around Sport Canada's Long Term Athlete Development principles and follow Cross Country Canada's program guidelines. The JD (Junior Development) program is for athletes 13 to 17 years who are interested in developing their full range of skiing skills, off-season training and have a desire to compete at regional and provincial levels, in preparation for joining one of our High School Nordic Academies.  A commitment to scheduled team training sessions in the summer and fall and additional, independent training at home and on the snow may be expected.
This program is suitable for athletes who are graduating from the Track Attack program (or are at comparable fitness and skill levels) and are entering or about to enter the "Training to Train" stage of growth and maturation.  JD athletes already enrolled in this program may remain in it throughout their Junior years. The JD program is also a potential entry point for 12-17-year-old athletes from other sports that are "newer" to XC skiing.
Levels of training for individual athletes will vary according to their individual goals and other sports commitments. Goal setting and review meetings with a program coach will be held seasonally to assess progress and adjust training as necessary.  Athletes will be provided with a general year-round training program, and weekly practice plans with general guidance for individual training.
Program Details
JD Year Round

U14, U16, U18

JD Fall/Winter

U14, U16, U18

Notes
Dates
May 1, 2022-April 2, 2023
Sept. 6, 2022-Apr. 2, 2023
 No sessions

(TBD)

Total # of sessions
~135
~85
Sessions/wk.
3
3
Days
Winter Schedule

Tuesday 18:00-19:30

Thursday 18:00-19:30

Saturday 9:30-11:30

Winter Schedule

Tuesday 18:00-19:30

Thursday 18:00-19:30

Saturday 9:30-11:30

The cold weather cut-off for JD is -20 Celcius

Cost
$860
$700
Registration Deadline
June 30
August 31
Year-round training access
Training 4-6 days/wk (including team (~3x) & independent sessions)
Access to summer, fall and winter club/regional/provincial training camps
Strength program including instruction in proper strength and weight lifting techniques
Seasonal goals review and planning sessions (group and individual) with coach
General Yearly Training Plan (YTP) including weekly general guidance for individual sessions.
Training log monitoring
Video analysis of technique
Competitions
This program has a training and racing focus. Athletes will be well supported as they prepare for the ski season and compete in local, Provincial and National level competitions that may include:
SLNC Best in Snow
OK Cups
BC Cups, BC Championships
Western Canadian Championships
NorAms
Canadian Championships
+ other local events and loppets
Training camps:
Testing:
2 SLNC summer/fall field tests for energy system fitness & strength will be offered
Nutrition and Regeneration/recovery protocols
Psychological techniques training (relaxation, activation, visualization, strategies, coping…)
Technical video analysis off-season & on-snow (roller skiing, striding, skiing…)
Online Team calendar and training session postings
Pre-season program info/orientation meeting – mandatory for all athletes and parents.
Expectations of Athletes
This is a training and racing program. Athletes should have a desire to train year-round and compete at provincial and national levels. A commitment to scheduled team training sessions in the summer and fall and to completing independent training is expected. Daily training logs (including resting heart rates, sleep hours, energy levels, etc) are introduced and used to monitor training response and give appropriate training advice. Athletes are expected to be proactive in informing coaches of upcoming events & activities that may conflict with scheduled training.
Note: Athletes at the JD level are often involved in other organized sports in the summer, fall and occasionally winter. We encourage multi-sport involvement for enjoyment and to develop a full range of athletic abilities. Older JD athletes often have work and other responsibilities. The Head Coach will meet with athletes and parents pre-season to preview schedules, clarify goals & mutual expectations to outline a plan that balances the individual needs of the athlete with the needs of running a cohesive club program. The Head Coach will be flexible in helping to determine the right balance and reserves the right to set minimum training and attendance requirements.
* An SLNC 22/23 season pass is required for participants in this program.
No formal programming: Dec 19-Jan 2
Head Coach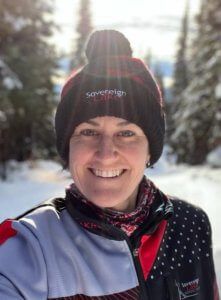 Head Coach: Jacqueline Akerman
A career ski and biathlon coach, Jacqueline has been involved as a high-performance coach for 25 years in a professional capacity. The Canada Winter Games started her off as both an athlete then a coach. As a former head coach of the Camrose Ski Club and Augustana University teams, she brings extensive and diverse experience to our programs. Jacqueline, a former Jr National Development Biathlon Team athlete, transitioned into a long-term leadership career with Biathlon Canada, coaching athletes, national and junior national teams at all levels, at countless national and international events, including Youth Olympic Games, four University Games, multiple World Cups, and Championships. Her role as Coach and Athlete Development Manager and Master Coach Developer has laid a foundation on which to build a strong training environment and talented athletes. Jacqueline is a member of Nordiq Canada's – Coach Technical Committee, proudly serving our members across the country. She has an undergraduate degree in Physical Education and a Master's degree in Coaching.
Sport has always been a focal point for Jacqueline – starting as a distance running athlete then skiing and biathlon, Jacq has a passion for the pursuit of excellence for herself and those around her, this laid the foundation to be an incredibly skilled coach. "I learned from a young age that knowledge and long-term excellence come from hard – smart work, dedication, and patience. That the key to success in sport and in life is enjoying the work of continual improvement in technical, tactical, physical, mental and life skills, the best athletes are those that are very well rounded and love the pursuit of excellence through sport".
Volunteer Coaches
Sarah Purslow
Glen Stiven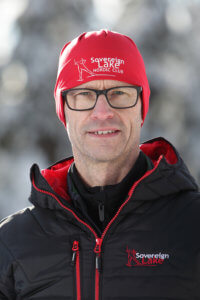 Paul Hardy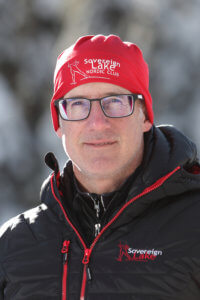 Neil Munroe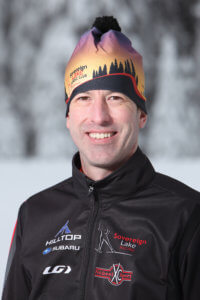 Virginie Pichard-Jolicouer