2023/2024 Rates
SKIS: Rossignol X-Tour Escape R-Skin (176-203cm), Rossignol X-Tour Venture (100-170cm

Part Day (up to 2 hrs)
Adult
Senior/Youth/Child
Children 5 & under
Complete package
$15.00
$11.00
$5.00
Skis Only
 $14.00
$7.50
Boots Only
 $10.00
$5.50
Poles Only
 $6.50
$5.50
Full Day (over 2 hrs)
Adult
Senior/Youth/Child
Children 5 & under
Complete package
 $22.50
$15.00
$5.00
Skis Only
 $14.00
$10.50
Boots Only
 $10.00
$6.50
Poles Only
 $6.50
$4.50
Night Ski *
4 pm – 7:45 pm
All ages
Complete package
$5.00

SKI: Rossignol Delta Skate (147-192cm)

| | | |
| --- | --- | --- |
| Part Day (2 hrs) | Adult | Senior/Youth |
| Complete Package |  $21.50 | $17.50 |
| Skis Only |  $17.50 | $ 14.00 |
| Boots Only |  $12.00 | $10.00 |
| Poles Only |  $7.00 | $6.00 |
| Full Day (over 2 hrs) | Adult | Senior/Youth |
| Complete Package |  $29.00 | $20.50 |
| Skis Only |  $21.50 | $16.50 |
| Boots Only | $16.50 | $12.00 |
| Poles Only | $7.00 | $6.50 |
| Night Ski * 4 pm – 7:45 pm | Any age | |
| Complete package | $5.00 | |

Classic
Ski: Rossignol R-Skin Race (178-208cm)

| | | |
| --- | --- | --- |
| Part Day (2 hrs) | Adult | Senior/Youth |
| Complete |  $30.00 | $25.50 |
| Skis Only |  $25.00 | $20.50 |
| Boots Only |  $11.00 | $9.00 |
| Poles Only |  $5.50 | $5.50 |
| Full Day (over 2 hrs) | Adult | Senior/Youth |
| Complete |  $40.00 | $35.50 |
| Skis Only |  $35.00 | $25.00 |
| Boots Only | $15.00 | $11.00 |
| Poles Only | $6.00 | $4.00 |

Skate
Ski: Rossignol X-Ium Skate (176-193cm)

| | | |
| --- | --- | --- |
| Part Day (2 hrs) | Adult | |
| Complete |  $30.00 | |
| Skis Only |  $25.00 | |
| Boots Only |  $8.00 | |
| Poles Only |  $5.00 | |
| Full Day (over 2 hrs) | Adult | |
| Complete |  $40.00 | |
| Skis Only |  $35.00 | |
| Boots Only | $15.00 | |
| Poles Only | $8.00 | |

Ski: ROSSIGNOL BC 65 POSITRACK
LENGTHS: 165, 175, 185 CM
SIDECUT: 65/53/60 MM

The BC 65 is a lightweight, metal edge touring ski designed for off-trail exploring or on-trail use. Waxless Positrack base provides excellent grip when ascending, yet retains a smooth glide while flying over flat terrain. Metal edges and a higher camber provide control and power in varying snow conditions.
| | | |
| --- | --- | --- |
| Part Day (2 hrs) | Adult | Senior/Youth |
| Complete | $15.00 | $11.00 |
| Skis Only |  $14.00 | $7.50 |
| Boots Only |  $10.00 | $5.50 |
| Poles Only |  $6.50 | $5.50 |
| Full Day (over 2 hrs) | Adult | Senior/Youth |
| Complete |  $22.50 | $15.00 |
| Skis Only |  $13.00 | $9.00 |
| Boots Only |  $9.00 | $6.00 |
| Poles Only |  $6.00 | $4.00 |
Are there mutli-day rental options?
No. Rental equipment must be returned by the end of the day.
Can I take rental equipment to SilverStar?
No. Equipment is to be used on site, however you can ski over to SilverStar and back with the equipment.
I have some boots can I only rent skis?
Yes, however please ensure that your boots are NNN or Prolink compliant, the SNS boots will not work with our NNN bindings.
Do you offer seasonal rentals?
Seasonal rentals are only offered to youth in our ski programs.
What's the smallest size kids skis do you have?
First tracks Snow Party skis, strap in any boot, for ages 4 & under. If you child can walk, we can fit them.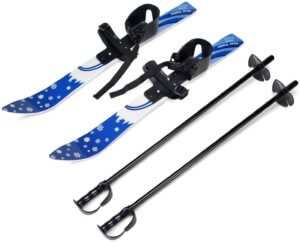 What is the largest size boot you have?
US Size 14/15 or Euro size 48.
Can I reserve equipment?
No. We don't take reservations on rental equipment. Rentals are first come first serve.
Do you rent child carriers?
Yes. Here's our info on child carrier rentals.
Child carriers can be used for both skate and classic skiing.
Do you sell your equipment at the end of the season?
No, however we do sell equipment randomly if we need to make room for more.
Please sign up to our newsletter and follow us on Facebook and Instagram to get first dibs on equipment that may be on sale.
If I am under 19, do I need my parent with me to rent equipment?
Yes, your parent or guardian must be present to sign the waiver.