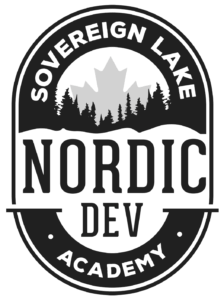 Sovereign Lake Nordic Development Academy is Western Canada's newest high-performance post-secondary development focused training program for Cross Country and Biathlon athletes.
SLNDA provides training opportunities for athletes looking to continue racing immediately after high school or during their transition into post-secondary education while still wanting to race at a high level. We cater to athletes with a commitment to academic and athletic excellence. Many SLNDA athletes attend UBCO or Okanagan College and are able to adjust their school schedule to fit optimal training sessions. SLNDA has high-quality training opportunities at our facility providing athletes with a stepping stone to our National Training Centers and National teams.
Our team of full-time, year-round coaching staff will help guide you through your post-secondary racing career. Sovereign Lake is unparalleled when it comes to early and late-season training opportunities, typically hosting some of the first and last on-snow camps of the season. At an elevation of over 1600m, we offer daily high-elevation programming on arguably some of the best-groomed trails in the world.
With national points races taking place each season at our venue, there is a real hometown advantage for our athletes training at altitude. With our close proximity to one of the top 40 universities in the world, a thriving year-round destination of Vernon,  and an international airport less than one hour away from our training centre, SLNDA is an obvious choice when considering post-secondary training opportunities.
The Okanagan Valley is also home to hundreds of kilometres of running and mountain biking trails along with picturesque roller skiing and road cycling routes throughout the region. Famous lakes and beaches provide a fun and relaxing environment to cool off after a long summer workout.
Eligibility:
High school graduates between 18 and 24 years of age.
Post-Secondary school enrollment is encouraged but not required.
An online onboarding session and code of conduct agreement are required
Maximum 20 participants for the 2023-24 season between XC and biathlon,
Application deadline: Now closed for 23/24 season
You must be pre-approved for this program prior to registering online.
Apply for post-secondary schooling: Many programs have placements available. Contact the school's Academic Advisors for more details.
2022-25 Sponsors:

Why join our SLNC Nordic Development Academy?
Year-round training program
Monthly training camps (spring/summer/fall)
3-5 in-person sessions weekly on average, year-round
High-performance development focused
An opportunity to be a part of a team that is dedicated, driven & like-minded,
All participants will have the opportunity to attain NCCP (coach) training
Athletes will sometimes coach within our youth and masters programs – giving back to the ski community is an important part of being an athlete
Waxing and coaching support at team-led events
Early and late season on-snow training – 6 months of snow!
Program Details:
Dates

May 1st, 2023 – Mid-April, 2024

Sessions per Week

Summer
AM: [Tue, Wed, Thu, Sat, ~8:30 – 11:00]
PM: Tue (Gym) 16:30 – 18:00 School Schedule *Throughout the entire season*
AM: Tue, Wed, Thu, Fri ~8:30 – 11:00, Sat 9:30 – 11:30
PM: *Welcome to join any club PM sessions*

Length of Session

1.5 to 3 hrs

Cost

$3500

Registration Deadline

Now closed for 23/24 Season
–
*To participate in this program you must have a consultation with a Sovereign Lake Nordic Development Academy coach and receive approval from the SLNC Coaching Staff. This is to ensure that the Academy is a good "fit" for student-athletes and that they are aware of  – and appropriately prepared for –  the demands of Academy training and academic study.
* An SLNC 23/24 season pass and club/provincial/national membership in cross country  are required for participants in this program
Contact Darren Derochie
No formal programming: ~ TBD
Register