Sovereign Lake Nordic Club is excited to offer the very popular Masters Program once again for the 2018/19 season that is organized and lead in large part by our team of volunteer coaches. The goal of the program is to introduce more Adults (19+ yr) to the joys of cross-country skiing through a social, organized support network. All participants must be SLNC Season Pass Holders. The program STILL costs just $50!
This program runs three times per week as per the included calendar and is open to all abilities.
Do you want more focused technical training and some professional coaching?  Join us on every second Wednesday morning from 9-11:00am with Eric de Nys (experienced National Cross Country Team coach) for this great training opportunity.  Want even more? See the Masters High Performance tab on this page.
3 weekly sessions available:
Sunday Morning (10:00am-12:00) Led by Volunteer Leaders
Wednesday Mornings (9:00-11:00am) Led by Volunteer Leaders, combined with coaching and technical expertise provided by Eric de Nys on alternate weeks.
Wednesday Evenings (6:30-8:00pm) Led by Mae Hooper.
**You are required to be an SLNC Pass holder to take part in our XC Masters Program. Confirmation is required by showing your season pass.   
If you have questions regarding this program please contact our Master's Program Coordinator for more information. If registration is giving you challenges, click the FAQ tab (above) and scroll to the bottom.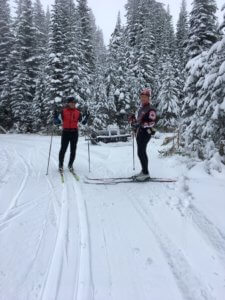 Program Details
| | | |
| --- | --- | --- |
| Dates | Nov 29 - Mar 14 | |
| Total # of Sessions | 30 | |
| Sessions per Week | 3 | |
| Locations | SLNC | |
| Technique | Classic and Skate | |
| Cost | $50 | |
| Notes | A percentage of Masters revenue goes back to support Youth Program Race Development. | |
Optional Sessions
Fall Dryland Club Night (5:30-7pm) at Kidston Elementary
Eric de Nys
former National Ski Team Coach
Coach at the last two Olympic Winter Games
extensive Masters coaching experience in Canmore
former National Champion athlete
National Coaching Institute graduate
Pat Pearce
World Champion Master Skier, many times over!

Educational background includes kinesiology.

Experienced cross country ski coach.
Mike Bell
Olympic coaching experience.

Educational background includes exercise physiology.

Super Camp coach.
Gerry Breneman (Masters Coordinator)
30 years of coaching high school cross country running and track and field

40 years of competitive cross country skiing and running

CANSI level II certified instructor
Shirley Pommier
Has competed at 7 Masters World Cups.

Level ll CANSI, TD, and Coach certifications.

Have Taught and coached at Laurentian University, nordic clubs, and Masters Camps.

Fitness and Lifestyle Management Diploma.

Firth Award recipient.
There are three sessions each week:  Sunday Morning and your choice of Wednesday Morning or Evening.
Sunday Morning
Time: 10:00-12:00
Schedule
| | |
| --- | --- |
| 10:00-10:20 | Warm Up |
| 10:20 | Meet in front of the Tech Building for instructions |
| 10:30 | Training Activity of the Day* |
| 11:45 | Cool Down |
| 12:00 |  Meet in lodge for post-work out nutrition with the group |
 *Activity will be designed to raise your heart rate in a challenging event (ie team relay) or a long slow ski will always be an option for participants.
Wednesday Morning
Time: 9:00-11:00 am
Schedule
| | |
| --- | --- |
| 9-9:20 am | Warm Up |
| 9:20 | Meet in Stadium @ Tech Building to organize groups |
| 9:30-10:45 | Training Activity of the Day |
| 10:45 | Cool Down |
| 11:00 | Meet in the lodge for post-work out nutrition with the group |
Wednesday Evening
Time: 6:30-8:00 pm (An Alternative to the Wednesday morning)
Schedule
| | |
| --- | --- |
| 6:30 – 6:50pm | Warm Up |
| 6:50 | Meet in Stadium in front of Tech Building |
| 7:00-7:45 | Training Activity of the Day |
| 7:45-8:00 | Cool Down |
| 8:00pm | Meet in lodge for post-work out nutrition with the group |
Note
All Master members will receive messages on Mondays and Fridays via Team Snap advising of training plans of the upcoming sessions.
What is SLNC Masters about?
It's summed up in the three Fs
Fitness, you don't have to be very fit to join Masters but participation will help you to raise the bar.
Form, you will learn to ski more efficiently.
Friendly, all happens in a friendly environment.
And it's also fun, because serious is for kids!
What it's not
It's not boot camp, as in rigorous and intense training sessions. There is that element for those who want it but the focus is on recreational skiing with some attention to technique. It's not structured, skill development sessions. There is little or no repetitive skill drills.
Goals of the SLNC Masters Program
To provide the structure and support whereby club members have the means to raise their level of fitness and to improve their skiing proficiency.

To provide training sessions which will be effective in improving levels of fitness for all program participants.

To provide support for those who want to compete

Keep all participants well informed of all events and activities

What's more, t

he fee, $50. SLN Masters is the best program for the money in the country, bar none.

The program is club and membership based, organized and delivered by club members.

Technical support for certain sessions will be led by Eric de Nys and Mae Hooper.
New Initiatives for 2017-18
To strongly encourage recreational club skiers to participate in SLN Masters.

To offer a few speaker sessions over the course of the season.

To provide small group technique sessions by representatives of BC Masters.

To organize 3 social events.

Focus training for competitive skiers on key events.

To provide "no additional fee" instruction on technique from a qualified staff member, on weekly a basis.
We encourage members to join BC Masters for $23 per year.
Registration Hints
Already registered for the club and want to add a program?
Come in to the day lodge on or after November 10th to add this program. Contact the Masters Coordinator to get on the email list for activities that occur before then.
Upgrading a SilverStar pass?
Note that you must be a Sovereign member to join a program. It is possible to upgrade your SilverStar pass to dual area without becoming a member, but this won't make you eligible for programs.