Masters XC program is full for the 2020/21 Season
"Under the advisement of our Programs Director and Masters Leadership, we are reducing our registration limits for the Masters' XC Program to 100 participants until we know what our winter operations season will look like with regard to social distancing. We will be offering more options to spread groups out, but will eliminate the group gatherings in the lodge and will run exclusively outside in the fresh air. We are considering having fire pits and increased outbuilding access as warming locations on all program days.
All Programs will operate with reduced usage of the lodge for 2020-21, with no access to the Team Room for participants or for clothing storage. This corridor will turn into a building exit to decrease congestion through the front doors."
Sovereign Lake Nordic Club is excited to offer the ever popular Masters Program once again for the 2020/21 season.   This program is organized and lead in large part by our team of volunteer coaches. The goal of the program is to introduce Adults (19+) to the joys of cross-country skiing through a social, organized support network. All participants must be SLNC Season Pass Holders. The program costs just $60! About the same price as a single private lesson.
This program runs three times per week as indicated on the included calendar and is open to all abilities.
Do you want more focused technical training and some professional coaching?  Join us on select Thursday mornings from 10:00am-12:00 with Eric de Nys (experienced National Cross Country Team coach) for this great training opportunity.  
Want even more? See the Masters High Performance tab on this page.
3 weekly sessions available starting Thursday December 3, 
Sunday Morning (10:00am-12:00) Led by Volunteer Leaders
Thursday Mornings (10:00am-12:00) Led by Volunteer Leaders, combined with coaching and technical expertise provided by Eric de Nys on select weeks.
Thursday Evenings (6:30-8:00pm) Led by a top instructor.
**You are required to be an SLNC Pass holder to take part in our XC Masters Program. Confirmation is required by showing your season pass.   
If you have questions regarding this program please contact our Master's Program Coordinator for more information. If registration is giving you challenges, click the FAQ tab (above) and scroll to the bottom.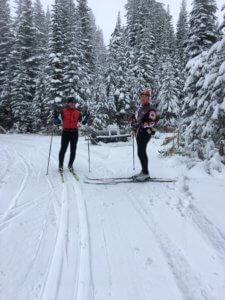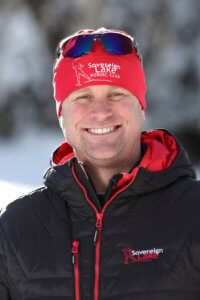 Eric de Nys (Program Coordinator, Head Coach SLNC)
Favorite Trail: Do I have to pick just one?
Years Coaching: 20
Why Coach?: I love seeing people achieve things they didn't necessarily think possible-human potential and breakthrough
Favourite Food? A beautiful fresh bread sandwich!
Words of Wisdom: Without risk there is no reward.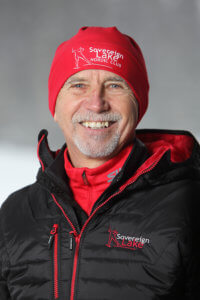 Gerry Breneman (Masters Coordinator)
CANSI level II certified instructor
Favorite Trail: Lars Taylor, up and down!
Years Coaching: 4 years with the Masters program
Why Coach?: For the love of sport and helping to develop and environment within the club that promotes the same
Favourite Food? Seafood (see food diet) and peanuts w/ my favorite beverage
Words of Wisdom: Take small consistent steps to achieve big gains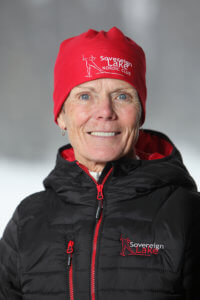 Pat Pearce
Favorite Trail: The Zumas
Years Coaching: 4 years with the Masters
Why Coach?: Firstly, I love skiing and want others to share the same enthusiasm for this lifestyle.  Also, I believe that to grow our Nordic culture we need Master skiers who are interested in skiing well and become addicted to the sport.  I hope my coaching is helping Sovereign to that end.
Favourite Food? Oatmeal-in and on everything!
Words of Wisdom: Actions speak louder than words.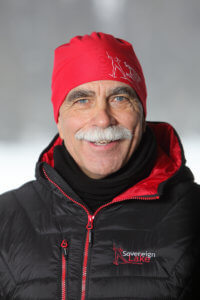 Pat Van Mullen
XC Coaching Certifications ; PSIA, USSA, CANSI
Favorite Trail: Silver Queen
Years Coaching: 45 total, 15 with XC
Why Coach?: For the love of sport
Favourite Food? Sushi
Words of Wisdom: If you are up to something bigger than yourself you must include others.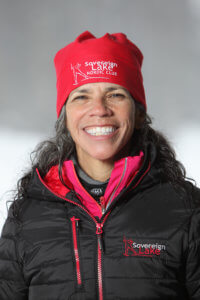 Cynthia Flores
Level I USSA Coach, Level I CANSI Coach
Favorite Trail: Passmore to Carl Wylie loop
Years Coaching: 7
Why Coach?: I love watching newer skiers fall in love with the sport, to see their breakthroughs and smiles.
Favourite Food? Sushi
Words of Wisdom: Life's too short.  Be joyful!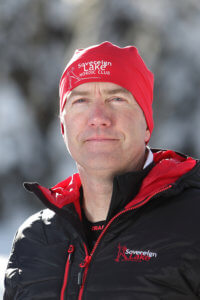 Gerry Furseth
Favorite Trail: Lower World Cup
Years Coaching: 36
Why Coach?: Reino Keski-Salmi taught me a lot about skiing faster and even more about the value of giving back to the community
Favourite Food? Pasta!!
Words of Wisdom: "The only purpose of exercise is to induce recovery"-Per Gaarder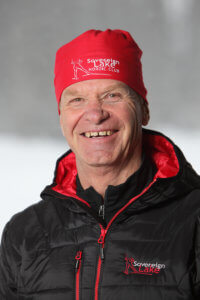 Mike Bell
Favorite Trail: Passmore
Years Coaching: 30+
Why Coach?: Fun to watch people improve their technique and fitness
Favourite Food? Pasta & Ribs
Words of Wisdom: Ski smooth, ski smart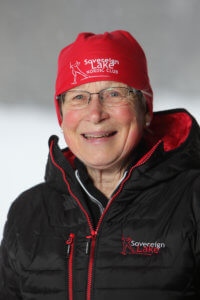 Shirley Pommier
Level ll CANSI, TD
Favorite Trail: Woodland Bell, Carl Wylie
Years Coaching: 35
Why Coach?: I love XC skiing and want all Canadians of all ages at all stages to try it and embrace our winter.
Favourite Food? One dish meals
Words of Wisdom: Nothing of worth is accomplished without enthusiasm (Emerson)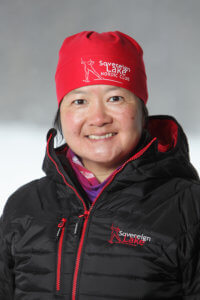 Peggy Hung
CANSI Level 1, NCCP- ICC + CCW
Favorite Trail: The Zumas
Years Coaching: New to coaching this year
Why Coach?: I love seeing people being active outdoors, regardless of age or ability.  This is my way to encourage the community to XC ski and realize that it's not as hard as they think.
Favourite Food? Salmon
Words of Wisdom: Progression, not perfection.
Peggy Graham-Morel
Favorite Trail: Silver Queen
Years Coaching: 30+
Why Coach?: Creating positive experiences for people, makes me smile
Favourite Food? Is chocolate a food?
Words of Wisdom: If you believe, then you achieve.
Franziska Plummer
Favorite Trail:
Years Coaching:
Why Coach?:
Favourite Food?
Words of Wisdom:
There are three sessions each week:  Sunday  10:00-12:00, Thursday 10:00-12:00, or Thursday 18:30-20:00.
The session details will evolve as safety rules are updated. Updates for this page will begin closer to the start of the program.
Sunday Morning
Time: 10:00-12:00
Schedule
| | |
| --- | --- |
| 10:00-10:20 | Warm Up |
| 10:20 | Meet your leader at the designated location for your group |
| 10:30 | Fun Activity of the Day* |
| 11:45 | Cool Down |
| 12:00 |  Stay 2m apart in the parking lot. No coffee sadly. |
 *Activity will be designed to raise your heart rate in a challenging event (ie team relay) or a long slow ski will always be an option for participants.
Thursday Morning
Time: 10:00am-12:00 am
Schedule
| | |
| --- | --- |
| 10:00-10:20 am | Warm Up |
| 10:20 | Meet your leader at the designated location for your group |
| 10:20-11:45 | Planned Activity of the Day |
| 11:45 | Cool Down |
| 12:00 | Stay 2m apart in the parking lot. Still no coffee. |
Thursday Evening
Time: 6:30-8:00 pm (An Alternative to the Thursday morning)
Schedule
| | |
| --- | --- |
| 6:30 – 6:50pm | Warm Up |
| 6:50 | Meet in Stadium in front of Tech Building |
| 7:00-7:45 | Training Activity of the Day |
| 7:45-8:00 | Cool Down |
| 8:00pm | Meet in lodge for post-work out nutrition with the group |
More information about getting fitter, faster, and happier.
What is SLNC Masters about?
It's summed up in the three Fs
Fitness, you don't have to be very fit to join Masters but participation will help you to raise the bar.
Form, you will learn to ski more efficiently.
Friendly, all happens in a friendly environment.
And it's also fun because serious is for kids!
What it's not
It is not a boot camp, as in rigorous and intense training sessions. There is that element for those who want it but the focus is on recreational skiing with some attention to technique. It's not structured skill development sessions. There is little or no repetitive skill drills.
Goals of the SLNC Masters Program
To provide the structure and support whereby club members have the means to raise their level of fitness and to improve their skiing proficiency.

To provide training sessions which will be effective in improving levels of fitness for all program participants.

To provide support for those who want to compete

Keep all participants well informed of all events and activities

What's more, t

he fee, $60. SLN Masters is the best program for the money in the country, bar none.

The program is club and membership-based, organized and delivered by club members.

Technical support for certain sessions will be led by Eric de Nys.
New Initiatives for 2020-21
To strongly encourage recreational club skiers to participate in SLN Masters.

To offer a few speaker sessions over the course of the season.

To provide small group technique sessions by representatives of BC Masters.

To organize 3 social events.

Focus training for competitive skiers on key events.

To provide "no additional fee" instruction on technique from a qualified staff member, on weekly a basis.
We encourage members to join BC Masters for $23 per year.
Can I come to a drop in session?
No we are not allowing drop in's for the 2020/21 season