Update September 22/21:
Registration for this program is now closed.
Masters XC has reached maximum number of participants for the 2021/2022 season with over 250 registrants.
Sign up to be put on the wait list – We will contact you if additional spaces become available.
---
Sovereign Lake Nordic Club is excited to offer the ever popular Masters Program once again for the 2021/22 season.
This program is organized and lead in large part by our team of volunteer coaches.
The goal of the program is to introduce Adults (30+) to the joys of cross-country skiing through a social, organized support network.
The program is only $100! About the same price as a single private lesson.  
This program runs 3x/week times per week as indicated on the included calendar and is open to all abilities.
Participants can expect warming up, receiving some technical pointers and breaking in to smaller groups to head out onto the trails for a ski while working on the technical pointers of the day.  Meet back at the lodge for coffee and treats (depending on covid restrictions).
If you are looking for a program that's more performance focused check out our Masters High Performance program
Masters XC Program requirements
All participants MUST have previous skiing experience and be able to glide on their skis. Take some lessons with our knowledgeable instructors and then get involved with Masters XC if you're new to skiing and want to be apart of the Masters XC group.
MUST be SLNC Season Pass Holders.
3 weekly sessions available starting Thursday December 2, 2021
Sunday Morning (10:00am-12:00pm)
Thursday Mornings (10:00am-12:00pm)
Thursday Evenings (6:30-8:00pm) Led by a top instructor.
If you have questions regarding this program please contact our Program Coordinator for more information. If registration is giving you challenges, click the FAQ tab (above) and scroll to the bottom.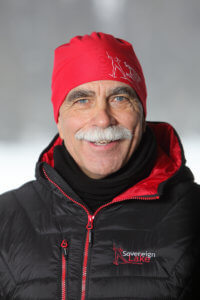 Pat Van Mullem
Masters Coordinator
Email:  Pat
Personal goals for masters program
To maintain the momentum of SVLNC Masters going through this difficult pandemic, provide our masters members a place to safely enjoy the companionship and social interaction of friends while enjoying our sport for fitness and exercise while maybe even improve their xc skills a little.
Sovereign Masters XC promotes the joy of skiing, building friendships, and adding to one's skiing skills in a fun social group setting. Masters XC is a successful blend of improving technique and building fitness in a relaxed atmosphere of fun, fitness, and camaraderie.
Skills and expertise
XC Ski Certified Instructor CANSI, PSIA, USSA
Instructor and coach in sports for 47 years
Instructor Trainer and Instructor Course Director Scuba Diving
Chocolate connoisseur
Interests and hobbies (other than skiing)
SCUBA Diving, Flying little airplanes , Backpacking, Woodworking, Fitness,
Hometown
Enschede in the Netherlands
Why Sovereign is my go to ski destination
Cyndy and I chose Sovereign and SilverStar as our happy place after coming here for ski camp 20 years ago & fell in love with the area. SLNC has great snow, great trails, good skiers, but mostly, what makes this a special place for me, is a very active and vibrant xc community. Maybe a lot of local skiers are not aware of this but after having traveled to a number of world class ski destinations, Sovereign Lake Nordic Club is world class and when combined with SilverStar is hard to beat anywhere. This is where we chose to live during the winter and love every minute of being here.
Favorite trail
Silver Queen
Skookum Leaders
Skate Development with possible classic technique time, newer skiers, for anyone focused on fundamentals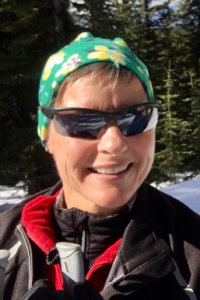 Donna Hansen
Favourite Trails: Silver Queen
Years Coaching: Newbie in skiing, 34+ years in other sports
Why Coach: To help other beginning masters enjoy the pleasures of skiing, keep learning and assist other leaders
Favourite food: Sushi 1st, dark chocolate 2nd
Words of Wisdom: Fall down seven times, get up eight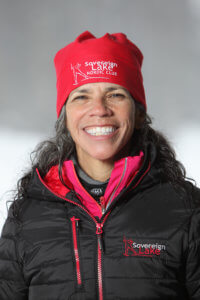 Cynthia Flores
Level I USSA Coach, Level I CANSI Coach
Favorite Trail: Passmore to Carl Wylie loop
Years Coaching: 7
Why Coach?: I love watching newer skiers fall in love with the sport, to see their breakthroughs and smiles.
Favourite Food? Sushi
Words of Wisdom: Life's too short.  Be joyful!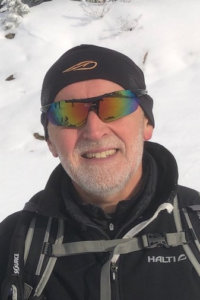 Rob Oxenham
CANSI Level 1
Favorite trail: I like them all
Years Coaching: 1 year
Why Coach : I love helping others improve and gain confidence in their ability.
Favorite food: NS lobster
Words of Wisdom: "Don't wait. The time will never be just right" – Napoleon Hill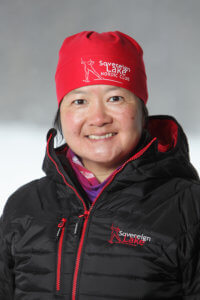 Peggy Hung
CANSI Level II, NCCP- ICC + CCW
Favorite Trail: The Zumas
Years Coaching: 4 years
Why Coach?: I love seeing people being active outdoors, regardless of age or ability.  This is my way to encourage the community to XC ski and realize that it's not as hard as they think.
Favourite Food? Salmon
Words of Wisdom: Progression, not perfection.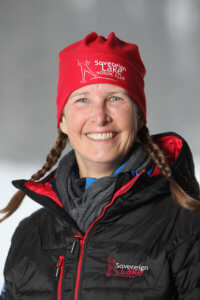 Karen Evans
CANSI Level III, CSIA Level II
Years Coaching: 15+ in cross country and downhill skiing
Why Coach?: It is fun! A great way to share a love of skiing and the outdoors.
Words of Wisdom: We only have today. Be out there.
Greyhound Leader
Skate, faster paced, fewer stops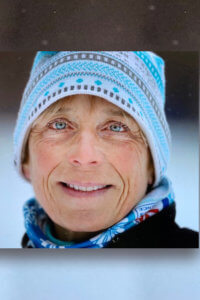 Kathrine (Kate) Ellis
USSA level II
Favorite Trail: From the Summit, down Upper Paradise to Comin' Round the Mountain, to Lars Taylor Way , ending up at Black Prince Cabin. Yahoooo!
Years Coaching: 22 years
Why Coach?: Skiing is pure joy. I hope to pass on my knowledge so others can experience that.
Favourite Food? Anything except Liver.
Words of Wisdom: Don't wait.
Marcus Boyle (occasionally assist)
Social Ski leader
Social touring with a focus on building endurance, possible mix Classic/Skate technique – Sunday only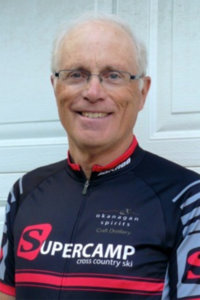 Brian Wills
Favorite Trail: I like them all
Years Coaching : Skiing for 67+ years
Why Coach: I like to support successful programs like Masters
Favorite Food: Berry Crumble
Words of Wisdom : Tips Downhill!
Touring Skiers
Skate, touring with possibly some tips along the way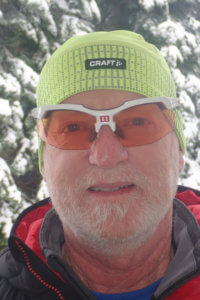 Lance Crump
Favorite Trail:    Montezuma's Revenge
Interests:           Track Cycling, Tennis
Favorite Food:   Lamb Shanks In Dark Ale
Favorite Motto:  La Jamais Contente
Thursdays Skiers
Skate intermediate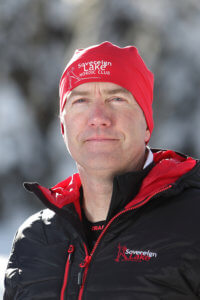 Gerry Furseth
CANSI Level ll 
Favorite Trail: Lower World Cup
Years Coaching: 36
Why Coach?: Reino Keski-Salmi taught me a lot about skiing faster and even more about the value of giving back to the community
Favourite Food? Pasta!!
Words of Wisdom: "The only purpose of exercise is to induce recovery"-Per Gaarder
Classic technique, intermediate level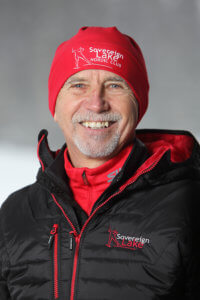 Gerry Breneman
Cansi Level II, NCCP + ICC
Name of Group: Very Classy
Performance level: intermediate
Objective: designed to promote skiing more efficiently and stronger
Years Coaching: 47 including track and field and cross country running
Favorite Food; strong adherent of the See Food diet
Saying: Take small consistent steps to achieve big gains
Thursday Nights Leader
Thursday Evening session Primarily Skate some possible Classic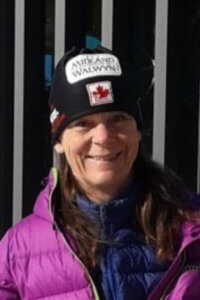 Franziska Plummer
CANSI level I, NCCP + ICC
Favorite Trail: Aberdeen/Lars Taylor Way
Years Coaching: About 15 years
Why Coach?: To connect with x skiers. To learn how to get the best from them and seeing them progress, having fun in a safe and social environment.
Favourite Food? Raclette and chocolate
Words of Wisdom: There is no such thing as too much snow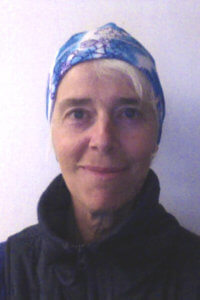 Felicia Ogorman
Favourite Trail: Skiing 'neath the trees on Prince of Wales
Years Coaching: Three in x-country skiing. A gazillion years in other sports
Why Coach?: As a coach, I love to create positive, supportive environments, to make sure the learning is fun, the participants are feeling motivated to try new things, and that everyone leaves smiling.
Favourite Food? During ski season, definitely a bowl of chunky chicken soup.
Words of Wisdom: If the person you are talking to appears not to be listening, be patient. He may just have a little fluff in his ear. – Winnie the Pooh

Ward Strong
CANSI Level I
Favorite Trail: White Elephant
Years Coaching: 4 years
Why Coach?: I love helping others discover my love for skate skiing. I also learn while coaching, which seems counterintuitive but is true.
Favourite Food? Homemade babaganoush with baguettes
Words of Wisdom: The journey is the goal

Murray Wood
Level 4 CANSI, Level 1 telemark
Favourite Trail : Lars Taylor and out to Alder Point
Years Coaching : 25 plus years
Why Coach : love helping, love sharing
Favourite food : a good peanut butter on marble rye bread toasted
Words of Wisdom : "Don't compare yourself to others. There is no comparison between the sun and the moon, they shine when it's their time" – Akinleye Isaac
Thursday in the Tracks Leaders
Easy Classic Skiing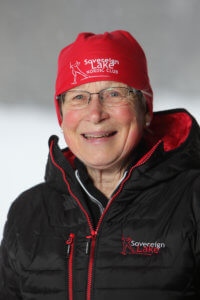 Shirley Pommier
Level ll CANSI, TD
Favorite Trail: Woodland Bell, Carl Wylie
Years Coaching: 35
Why Coach?: I love XC skiing and want all Canadians of all ages at all stages to try it and embrace our winter.
Favourite Food? One dish meals
Words of Wisdom: Nothing of worth is accomplished without enthusiasm (Emerson)
Peggy Graham-Morel
Favorite Trail: Silver Queen
Years Coaching: 30+
Why Coach?: Creating positive experiences for people, makes me smile
Favourite Food? Is chocolate a food?
Words of Wisdom: If you believe, then you achieve.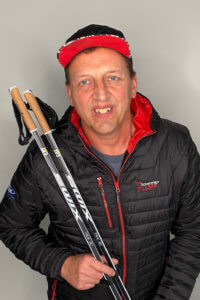 Rick Plovie
Favorite Trail: Woodland Bell
Years Coaching: 2
Why Coach: For the shear joy of being with people who share my love of XC Skiing and a determined passion for always bettering one's self
Favorite Food: Did someone say food ?
Words of Wisdom: Skiing is the next best thing to having wings
Covid passport verification administrator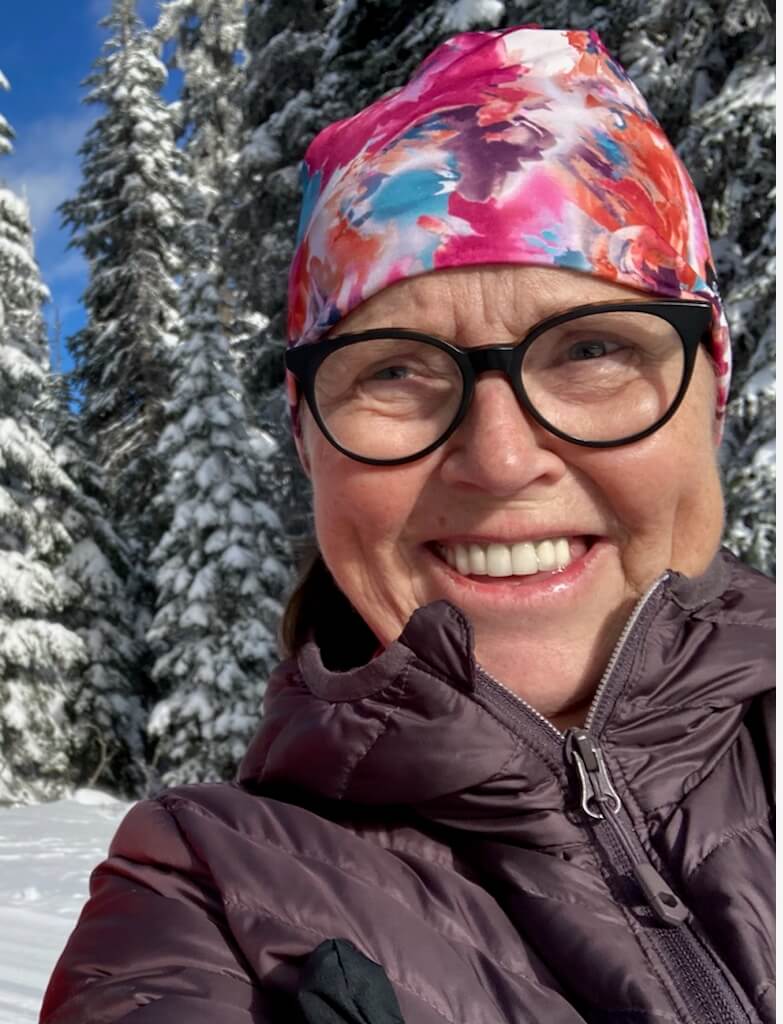 Johanna Tul
There are three sessions each week:
Sunday  10:00 am -12:00 pm, Thursday 10:00 am -12:00 pm, or Thursday 6:30 pm -8:00 pm.
Schedule
Sunday Morning
10:00-10:20
Warm Up
10:20
Meet your leader at the designated location for your group
*limited leaders are available Sunday some groups may be self-directed
10:30
Ski with designated group
11:45
Cool Down
12:00
 Coffee, treats, socializing (covid restrictions depending)
Thursday Morning
Time: 10:00am-12:00 pm
Schedule
| | |
| --- | --- |
| 10:00-10:20 am | Warm Up |
| 10:20 | Meet your leader at the designated location for your group |
| 10:20-11:45 | Ski with your designated group |
| 11:45 | Cool Down |
| 12:00 | Coffee, treats, socializing (covid restrictions depending) |
Thursday Evening
Time: 6:30-8:00 pm (Alternative to the Thursday morning)
Schedule
| | |
| --- | --- |
| 6:30 – 6:50pm | Warm Up |
| 6:50 | Meet in Stadium in front of Tech Building |
| 7:00-7:45 | Training Activity of the Day |
| 7:45-8:00 | Cool Down |
| 8:00 pm | Meet in outside of lodge for post-work out nutrition with the group |
What is SLNC Masters about?
Group based social skiing with varying degrees of structured skill development.  
It's summed up in the three Fs
Fitness, you don't have to be very fit to join Masters but participation will help you to raise the bar.
Form, you will learn to ski more efficiently.
Friendly, all happens in a friendly environment.
What it's not
It is not a boot camp, as in rigorous and intense training sessions.
See our Masters HP if you are looking for a higher level training
Goals of the SLNC Masters Program
To provide structure and support whereby club members have the means to raise their level of fitness and to improve their skiing proficiency.

To provide support for those who want to compete

Keep all participants informed of events and activities

What's more, t

he fee, $100. SLN Masters is the best program for the money in the country, bar none.

The program is club and membership-based, organized and delivered by club members.

Technical support for certain sessions will be led by the head coach
New Initiatives for 2021-22
To encourage recreational club skiers to participate in SLN Masters.

To offer a few speaker sessions over the course of the season (covid restrictions depending).

To provide small group technique sessions.

To organize social events eg. potlucks (covid restrictions depending)

Goal setting and training for competitive skiers on key events.
Masters Start December 2
Masters Finish march 3rd
Holiday Break December 23rd – 30th
Stay tuned to this page for schedule adjustments we may need to implement due to club events that may cause us to need be flexible like big races that use the stadium etc.
Register