(Program updates were made on July 20th. Please check the latest schedule.) 
WELCOME TO OUR MASTERS PERFORMANCE GROUP (PG) PROGRAM FOR THE 2022-23 SEASON!
The Master's Performance Group comes with a focus on technical development and improving overall fitness through ski-specific training. This program is designed for athletes training in multiple sports, who want to improve their technique, increase speed and confidence on varying terrain as well as have a strong training group to ski with. This cohort sees a lot of athletes from other sports who want to maintain their fitness throughout their off-season and switch up their training systems.
Sovereign Masters promotes the joy of skiing, building friendships, and adding to one's skiing skills in a fun social group setting while working hard.
Coached by Masters Lead Coach, Jessica Roach. This program aims to provide a space for quality learning and skill development. This program is not for beginners, you should be comfortable skiing most trails at Sovereign Lake. Training sessions will lead to many different areas of the trail network. 
The Master's Performance Group program runs 1x per week in the fall (Sept-Oct) and 2x/week times per week in the winter (Nov-March). Plus social ski sessions in the winter. All participants must also have a 2022-23 Season Pass in order to have access to SLNC Programming. See the schedule section for more details.
Is this sounding like it is a bit outside of your abilities? We offer a Masters XC Program as well as Intro to Skiing Packages for new skiers through our Day Lodge.
If you are looking for a program that's more race focused and training intense, check out our Masters Race Team program.
Cost: 2022/23 $500 per person, plus a season pass registration fee (Sept-March*). 
*For the remainder of the summer at no additional cost there will be a 1x week PG session and if that day doesn't work for you are invited to join a Race Team training time during the summer only. This is an opportunity to also see if the Race Team might be a good fit for you.
Race support is available for a fee at events that SLNC is supporting. 
Program Limit: 30 participants, please fill out the self-questionnaire/athlete profile besides learning a bit about yourself, this will help you and the coach find the right program fit for you. If you are unsure if this or the Master Race Team is the right fit you can try the PG for the summer and change to the race team by Aug 31st in consultation with the Master's coach.
Schedule:
Summer: Tuesdays 5:30-7:30pm, July 26-Aug 30, no charge
Fall: Tuesdays 5:30-7:30pm, Sept 5-Oct 25
Winter: Tuesdays either 4:00-5:30pm or 6:00-7:30pm, Saturdays 1:00-3:00pm, and Sunday Social Ski 10am-12pm
No formal programming: Dec 19-Jan 2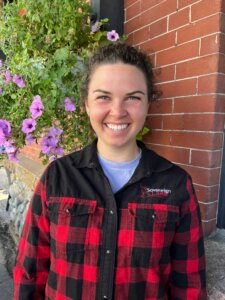 Jessica Roach – Masters Lead Coach
Jessica comes from Ontario originally, beginning her nordic ski career with Team Hardwood. Having the mentorship of her coach Jack Sasseville, she always knew she wanted to give back to the sport by coaching. Following a ski racing career during high school and university, and being able to compete in Scandinavia and throughout North America, it was time to shift focus from competing to coaching. Jessica was the top Senior Women skier in 2019/20 season. Once retiring from racing, Jessica moved to BC and was the Head Coach at Nickel Plate Nordic Center near Penticton for the past two years. This past season she also coached for Nordiq Canada at the Canada B-Tour and US SuperTour in 2021-22.
While training in Ontario, the Master's race team trained and raced alongside the younger athletes. With this unique experience and coaching the Master's Team at Nickel Plate, it was clear that she loved working with Masters athletes. When the opportunity at SLNC was presented, she jumped at the chance!
"SLNC is a spectacular facility and community, not to mention the amazing area". Jessica loves all the biking and skiing that is so close by and cannot wait for the snow to start falling.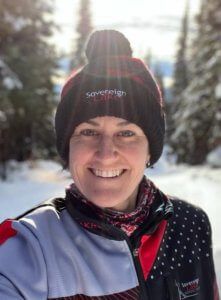 Head Coach: Jacqueline Akerman
A career ski and biathlon coach, Jacqueline has been involved as a high-performance coach for 25 years in a professional capacity. The Canada Winter Games started her off as both an athlete then a coach. As a former head coach of the Camrose Ski Club and Augustana University teams, she brings extensive and diverse experience to our programs. Jacqueline, a former Jr National Development Biathlon Team athlete, transitioned into a long-term leadership career with Biathlon Canada, coaching athletes, national and junior national teams at all levels, at countless national and international events, including Youth Olympic Games, four University Games, multiple World Cups, and Championships. Her role as Coach and Athlete Development Manager and Master Coach Developer has laid a foundation on which to build a strong training environment and talented athletes. Jacqueline is a member of Nordiq Canada's – Coach Technical Committee, proudly serving our members across the country. She has an undergraduate degree in Physical Education and a Master's degree in Coaching.
Sport has always been a focal point for Jacqueline – starting as a distance running athlete then skiing and biathlon, Jacq has a passion for the pursuit of excellence for herself and those around her, this laid the foundation to be an incredibly skilled coach. "I learned from a young age that knowledge and long-term excellence come from hard – smart work, dedication, and patience. That the key to success in sport and in life is enjoying the work of continual improvement in technical, tactical, physical, mental and life skills, the best athletes are those that are very well rounded and love the pursuit of excellence through sport".
Program Details pending review. Registration Launches July 20th, 2022
| | | | | | | |
| --- | --- | --- | --- | --- | --- | --- |
| Monday  | Tuesday | Wednesday | Thursday | Friday | Saturday | Sunday |
| | 4pm to 5:30pm or 6pm to 7:30pm | | | | 1pm – 3pm | Social Ski 10am to Noon |