Jackrabbit program goals :
Encourage FUN and participation,
Develop ABC's: Agility, Balance, Coordination and speed.
Encourage frequent cross-country skiing during the season.
Develop good technique habits through repeated practice
Utilize games and ski playgrounds to develop technique, speed skills and fitness.
Deliver well structured programs.
Develop linear, lateral and multi directional speed.
Nurture a team/social atmosphere.
Introduce competition in a team environment whenever possible.
Encourage inter-club social, skill and fitness oriented ski activities
* SLNC membership and a current season's pass is required for participants in this program.
Jackrabbits 1, 2
Jackrabbits 3, 4
Notes
Dates
Nov. 28 Mar. 13, 2021
Nov. 28-Mar. 13, 2021
Total # of sessions
14
27
Sessions/wk.
1
2
Days

Saturday 10:00-11:30

Tuesday 18:00-19:30

Saturday 10:00-11:30

Cold weather cut-off for "Jackrabbits″ is  -15*C.
Cost
$115
$165
Registration Deadline
October 31
October 31
Program Details
| | | |
| --- | --- | --- |
| Registration Deadline | October 31, 2020 | |
Group Coaches:
Kris Markson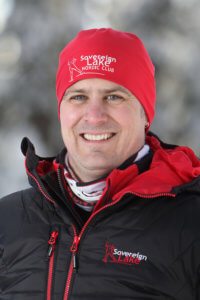 Favorite Trail: Jessica's Trail
Years Coaching: 5
Why Coach?: I really want to give back to this club and show my kids that it is a wonderful reward to see that "aha" moment when a new skier suddenly gets it!
Favourite Food? Hot homemade tomato soup with noodles, ham & cheese sandwich with pickles and a piece of dark chocolate after.
Words of Wisdom: "Whatever you decide to be, decide to be a great one!"
Kevin O'Connor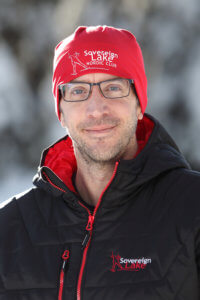 Favorite Trail: Loppet Loop
Years Coaching: 8
Why Coach?: I find it fun and I like being there with the kids learning their sport
Favourite Food? Glory bowls and lasagna
Words of Wisdom: Being positive makes for a happy life.
Hawks Rosen
Favorite Trail: Silver Queen
Years Coaching: 8
Why Coach?: Because skiing is great and everyone should do it.
Favourite Food? Swedish Meatballs
Words of Wisdom: Watch a really dumb movie now and then
Eva Rosen
Favorite Trail: Jessica's Trail
Years Coaching: First year
Why Coach?: To stay in contact with friends, enjoy the outdoors and to show the other coaches how to ski
Favourite Food? Pizza
Words of Wisdom: Don't always take the easy option
Jesse Zuidhof
Favorite Trail:
Years Coaching:
Why Coach?:
Favourite Food?
Words of Wisdom:
Shannon Zuidhof
Favorite Trail:
Years Coaching:
Why Coach?:
Favourite Food?
Words of Wisdom:
Joe Wessel
Favorite Trail:
Years Coaching:
Why Coach?:
Favourite Food?
Words of Wisdom:
Gordon Puddister
Favorite Trail: Animal trail
Years Coaching: 1
Why Coach? To share my enthusiasm for XC skiing
Favourite Food? Thai or Indian
Words of Wisdom: Go to the bathroom before leaving your house!
Kyla Johnson
Favorite Trail:
Years Coaching:
Why Coach?:
Favourite Food?
Words of Wisdom:
Equipment Sources: Classic skis and poles (waxless or waxable are both ok), mitts, toques, buff, non-cotton long underwear and lots of thin layers as over layers (light fleece and light shell). Snow pants are ok but please no snow jackets: kids are moving and grooving at this age!
Rentals –Rentals are available to Program Participants for $50/season.  A full selection of quality, affordable, classic and skate gear for all ages is available at SLNC. Please see SLNC staff for help.
Retail – Stussi Sports in Vernon provides an excellent selection of quality gear with advice to match. They also have a rotating "kids gear exchange" program and info on ski swaps. They are a huge supporter of our club, programs and events.
Q. Where do Jackrabbit sessions take place ?
Jackrabbits  1/2 meet at the far end of the stadium near the bridge and Jackrabbits 3/4 meet in the middle of the stadium at the start of Wylie's trail just past the green technical building.
Q. How long are Jackrabbit sessions?
Jackrabbit program goals are achieved through lively 1.5-2.0 hour sessions. This allows time for instruction, games & supervised, independent exploring in the ski playground.
Q. What new skiing skills will my child learn at this level?
JackRabbits continue to advance the skills they learned in the previous season and new classic techniques learned at this level include: diagonal stride, one-step double poling, downhill tuck, step turn, and parallel side slipping. Skating is formally introduced at this age and includes free skate, diagonal skate, skate turn, one skate, two skate, and offset.
Q. What does a typical Jackrabbit session consist of ?
Coaches use large and small groups, games, drills and longer continuous skiing bouts on varied terrain to encourage natural learning and "discovery".  Group sessions generally include ski play to warm up, a balance and agility game, review and introduction of a key skill/s, a game to emphasize new skills, and then ski play and wrap up.
Q. What is the split between classic and skating sessions ?
50/50. There are roughly the same number of classic and skating sessions. A full schedule for the winter is posted well in advance so that you know which occurs on which day. We try to arrange classic sessions back to back and skating sessions back to back to allow continuity.
Q. How do I learn more about waxing and what waxes should I have for my Jackrabbit ?.
A list of recommended waxes will be provided at the beginning of the season. Advice and basic wax instruction is delivered to Jackrabbits (and parents) as part of their programs. Introductory to advanced wax clinics are available to the public through Stussi Sports. Contact your coach or Stussi Sports for details.
Q. Do children race at this stage ?
Yes, opportunities to race are offered and encouraged. An age appropriate introduction to racing (relays, obstacle courses, sprints, individual challenges) is an important part of athletic development. Coach support at races is included in the program through participation in:
SLNC Candy Cane Classic
SLNC Best in Snow Loppet
BC Midget Championships
Opportunities to participate in local & regional Okanagan Cup & BC Cups are available.
Q. Is there a wrap up event at the end of the program ?
The formal season ends with festivities and games following the SLNC Best in Snow Loppet on Saturday March 13.
Q. Will my Jackrabbit make good progress by skiing just 2x/wk in the formal sessions?
Every Jackrabbit [and parent] progresses at their own rate. While Jackrabbit sessions provide a great introduction to skiing and help you get started on key ski skills and support you along the way…your child [and you] will improve quicker the more you get out!  We strongly encourage parents to take full advantage of our fantastic snow and trail system by getting out at least one other time when they can with their kids. A short family ski following Saturday's formal morning session works well for many families.
Q. What opportunities are there for my child to "move up" to the next level(s) ?
We do our best to place every child in a level and group that serves their current skill level and challenges them sufficiently so they improve. Coaches at every level/group communicate with each other regularly and make adjustments when appropriate and practical. For Jackrabbits getting ready to move up to Track Attack, we provide opportunities on select Thursday evenings to join the Track Attack sessions.
Q. As a parent/guardian learning to ski…how can I help/keep up to my own Jackrabbit ?
Ultimately, parents/guardians will be the ones taking their own youngsters skiing outside of lesson times. One of the objectives at this stage is to assist parents in understanding the technique skills and to share ideas of how to facilitate their child's learning. No worries if you need help improving yourself – we have lessons designed just for you and well qualified instructors for every level of skier !  Check with our staff to line up a certified instructor who can help you with your own skiing skills.
Q. Do parents/guardians accompany their children during Jackrabbits ?
A. This is the stage when children are skiing independently during sessions, in small groups led by certified coaches.  BUT, we do need and want your help as all youth programs run on parent volunteers! Read on…
Q. What kind of help does the club need and how can I pitch in ?
It takes many volunteers to run club programs and activities  We need your help with:
Coaching  – introductory and community coach workshops are provided and paid for with support and mentoring along the way for all coaches in our programs.
Coordinating programs – registration, refreshments, hot chocolate table, pizza night…
Equipment set-up – hoops/balls/props, playground maintenance, special events…
Races – timing, stadium & course set-up, marshalling, traffic control, bib gathering…
Other – everything big n'small happens because people pitch in – please just offer or ask us !