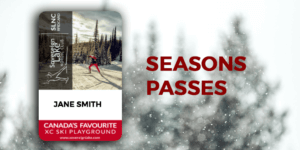 WHY RFID?
Radio Frequency Identification (RFID) passes are a passive technology that does not track whereabouts or hold any personal information. This new technology allows for faster processing of online purchases, reduces paper ticket waste, and provides valuable anonymous user data to help us attain grants for upgrades such as road paving and replacement of our day lodge. We had over 68,000 user visits last winter and these stats help us develop new programs, and create new user-friendly products.
Already have an account?
New to Sovereign Lake? Create a new account:
Having Issues? Please review our new Troubleshooting and Resources section.
2021/22 Rates
When you purchase your SLNC Season Pass, it provides access to Youth and Adult Programs in addition to using our SLNC snowshoe and backcountry trails at no additional cost.  Season passes do not include Pooch Passes.
REVISED JUNE 14th, 2021:
There will no longer be a stand-alone, Dual Mountain pass product, available for purchase at either SSMR or SLNC. SLNC and SSMR will be offering a discount to Add-On the other area to your season passes for the 2021-22 season. The Add-on is available for purchase through both SLNC and SilverStar. Following the purchase, you will be required to go to SSMR to pick-up your SSMR add-on or SLNC to pick up your SLNC add-on.
For SilverStar pass holders: you can purchase your "SLNC Add-On" through your My1Pass or Nordic pass purchase starting June 15th online, or over phone/in-person with proof of SLNC pass purchase.
For SLNC members: you can purchase your "SSMR Add-On" when you purchase your Nordic pass online. In addition, SLNC will be hosting add-on registration days in the fall prior to opening.  You can also purchase your discounted "SSMR Add-on" at the SSMR Pass Office with proof of your SLNC purchase.
Family Ski Season Passes
A family is defined as one or both parent/caregivers and their dependent children (18 yrs or younger) and living in the same residence. A family must contain a minimum of three family members. We have extended the family rate to families of 6 this season. In order to utilize this extended rate, all children must be under the age of 18.
Super Early Bird Rate (June 1-30)
Early Bird Rate
(July 1 – Oct 31)
In Season Rate (Oct 31st – )
Two Adults + up to Four Children
$504.00
$525.00
$546.00
One Adult + up to Four Children
$312.00
$327.00
$342.00
Individual SLNC Ski & Snowshoe Season Passes 
Super Early Bird Rate (June 1-30)
Early Bird Rate
(July 1 – Oct 31)
InSeason Rate  (Oct 31st – )
Add-On (to SLNC or SSMR)
Snowshoe Season Passes (SE/E/IS)

Super Senior (81+)

$80
$80
$80
$69
$40
Senior (65 – 80)
$156
$166
$176
$144
$60 / $63 / $66
Adult (19-64)
$224
$227
$238
$197
Student* (18+)
$134
$140
$146
n/a
Youth (13-18)
$123
$129.50
$136
$113
$50 / $52.50 / $55
Child (5-12)
$111
$118
$125
$103
$40 / $42 / $44
Tot (4 & under)
$25
$25
$25
n/a
$0
Adaptive**
$123
$129.50
$136
n/a
$50
(Dog) Pooch pass***
$50
$50
$50
n/a
N/A
All passes include Club SLNC Membership and CCBC Insurance.
* All Students must be attending a regional college or university full-time in order to attain this rate, and show School ID on request. 
**Adaptive Season Pass includes Free Day tickets for Caregivers and $5 rentals. 
***Dogs are not permitted on SLNC Snowshoe Trails.
MEMBERSHIP HAS ITS BENEFITS! 
Your Nordic Season Pass includes lots of great perks!
in-season skiing and snowshoeing at SLNC,
10% discounts on lessons,
10% discounts on rentals,
10% discounts on food in the SLNC Lodge,
10% off on soft and hard goods at Stussi Sport,
Access to club socials, races and events,
Access to purchase pooch pass for dog-friendly ski trails,
All members (over 18 years of age) have voting rights at our annual AGM and can help shape the future of our club.
Having troubles with booking your tickets? Check out the resources below.
Planning to come to Sovereign Lake more than once this year? An explanation of the benefits of purchasing a reloadable ticket (RFID) Card Upgrade can be found HERE.
Sovereign Lake and SilverStar are not selling Group Rate, Dual Area tickets, or Multi-day tickets for the 2021-22 season. 
2021-22 Rates
SLNC Ski  Tickets


(9am – 2pm)

SLNC Ski  Tickets


(12:00pm – 4pm)

SLNC Night Ski Tickets


(4pm – 8pm)

SLNC Snowshoe Tickets*
Super Senior (81+)
$9
$8
$7
$8
Senior (65-80)
$18
$16
$10
$10
Adult (19-64)
$21
$19
$10
$10
Student*
$17
$15
$10
$10
Adaptive**
$12
$11
$8
$8
Youth (13-18)
$12
$11
$8
$8
Child (6-12)
$10
$9
$8
$8
Tots (- 5)
$0
$0
$0
$0
All prices are subject to 5% GST. There are no day ticket refunds so please do not book tickets more than 5 days in advance. Day Tickets will not be credited towards a season's pass.
Dogs are not permitted on any SLNC trails without having a valid pooch seasons pass
*Students must be registered at a regional College or University full-time in order to attain these rates. Proof of enrolment is required at the ticket counter by showing your current season Student ID. 
**Adaptive defined as mental or physical impairment. Proof of assistance may be required for persons with an intellectual disability.