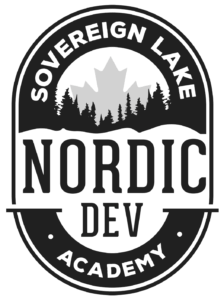 The Sovereign Lake Nordic Development Academy in partnership with the

Okanagan School District #22 Snowsports Academy,

offers Western Canada's first high-performance development program for Cross Country and Biathlon athletes in grades 8 through 12. This program caters to athletes with a commitment to academic and athletic excellence within a common high school timetable.
This Program has established a pathway to post-secondary excellence, tying in with our Post-Secondary Nordic Dev Academy. For athletes who intend to ski throughout University, our program will collaborate with UBCO and Okanagan College to provide a seamless transition from high school to Post-Secondary Academics.
The coaching staff will help guide you through your high school racing career. Sovereign Lake is unparalleled when it comes to early and late season training opportunities, hosting the first and last on-snow camps of the season in partnership with CCBC. With multiple FIS and National caliber races planned each season at our venue, there is a real hometown advantage for athletes attending our program.
Eligibility:
Currently enrolled in a Regional High School (or online program) in Grades 8 through 12. Need help finding a school?
Must have a valid Student Season Pass
An online Onboarding Session is required*
Maximum 30 participants across both Cross Country and Biathlon Programs for the 2023-24 season
Registration Deadline: May 31st, 2023.
Cost Schedule: $1810 for a School District 22 Student, $2810 for a Student coming from Out of District
2022-25 Team Sponsors

Why Join the SLNC Nordic Development Academy?
Integration with Okanagan School District #22 provides students with daytime training in Block A/B of the common timetable permitting the entire ski team the chance to train together, regardless of school or grade.
Any opportunity for athletes from smaller clubs to come together with like-minded high school students to train as a larger team.
Increase scholastic resources and individual training support.
Possible bussing support is planned for the 2023-24 season to decrease reliance on parent driving. There will be a monthly bussing fee throughout the training season to offset this cost.
All Grade 11 and 12 students will attain NCCP Introduction to Community Coaching and Community Coaching Courses as part of their curriculum with scheduled Bunny Rabbits and Jack Rabbits Coaching sessions, giving back to the ski community is an important part of being an athlete.
A CANSI Level 1 Instructor Course will be offered at a discount for Academy athletes.
Full Waxing Support and Coaching Support at Team led races,
Early and Late Season On Snow Training with almost 6 months on snow.
Year-Round Training Program.
Athletes receive a Physical Education credit.
Program Details
Dates

May 1st, 2023 – Mid-April, 2024 (School Snowsports Academy Semester runs September 6th, 2023 – Jan 27th, 2024)

Schedule

Summer
AM: [Tue, Wed, Thu, Sat, ~8:30 – 11:00]
PM: Tue (Gym) 16:30 – 18:00School Schedule (Semester 1)
AM: [Tue (Gym), Wed, Thu, Fri ~8:30 – 11:00], Sat 9:30 – 11:30
PM: [Tue, Thu, 18:00 – 19:30]School Schedule (Semester 2: Spring, Fall / Winter)
AM: Sat 9:30 – 11:30
PM: [Tue, Thu, 18:00 – 19:30]

Length of Session

1.5 to 3
*Consultation and approval to participate in this program must be given by SLNC Coaching Staff and the  Snowsports Nordic Academy liaison Glen Stiven before registering. This is to ensure that the Academy is a good "fit" for student-athletes and that they are aware of  – and appropriately prepared for –  the demands of Academy training and academic study.
* An SLNC 23/24 season pass is required for participants in this program.
No formal programming: TBD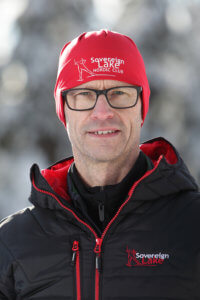 V-Learn Coordinator: Glen Stiven
Hello! I moved to Vernon for work in 1993 and that same winter bought skis, joined SLNC and have been learning to ski ever since. Our whole family now skis at Sovereign and Silver Star and we even have a racer in the house. A long weekend ski on the Sovereign trails is right up there with my favourite things to do. I believe that Sovereign Programs is a quality choice for families and support it as a parent, coach and race official.
Role: Snowports Nordic SD22 liaison and Sport Development teacher. I teach Science in SD22's Alternate and Online Programs as well as the online Sport Development course that our Academy skiers do to facilitate their daytime training. My philosophy, as the Sport Development teacher, is to support the vision of the Sovereign Coaching Staff and build the course around what is happening during the Academy daytime training and other Club activities. I have coached in Sovereign Programs from Jackrabbit 3/4 through to JD and have NCCP training to T2T for cross country. I also coach Youth Rowing where I am certified as a Learn to Row and RCA Coach. I hold a HBSc (Biochemistry) and M.Kin (Coaching Specialization – Rowing) both from UWO.
Other athletic experience: Basketball was my favourite sport in high school, but I also learned to row in the summer. I continued rowing at UWO as a member of the men's lightweight varsity crew, '86-'90. Rowing introduced me to friends (like my wife Pam), coaches, training, and racing. Along the way, we enjoyed memorable wins (because it took a while and we had come up short before) at Canadians, Canadian Henley, OUAA's, and Head of the Charles. I still row and also enjoy skiing, biking, bocce, and an annual round of golf.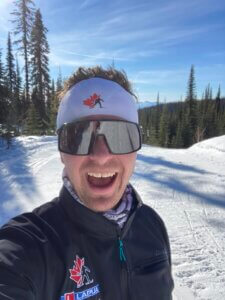 Eric Schryer – Biathlon Lead Coach 
Hailing from Sudbury, Ontario, Eric began his journey in skiing and biathlon by striding and gliding around his property with his parents. After discovering biathlon he patiently waited until he was old enough and then began learning to shoot in his local air rifle biathlon program. This quickly evolved to teaching himself how to shoot .22 rifles with a small group of athletes. After racing domestically, Eric was quickly scooped up by the coaching world. Eric began coaching with the Chelsea Nordiq ski & biathlon club. Along with leading this talented group of biathletes, Eric coached at the 2019 Canada Winter Games, and a multitude of Jr. IBU cups, IBU cups, and World Youth / Junior Championships with Team Canada. Eric is a member of Biathlon Canada's Domestic Committee and is continuing his education in the field of psychology.
Register