WELCOME TO OUR TRACK ATTACK PROGRAMS FOR THE 22/23 SEASON!
Registration is closed but if you are interested in registering for this program please email [email protected] to see if there is still room!

All of our youth programs are designed around Sport Canada's Long Term Athlete Development principles and Nordic Canada's program guidelines.  The Track Attack Program, which is directed at children in the "Learning to Train" stage of athlete development (children 10 to 12 years of age), is the third level of Skill Development Programs.  A high coach/athlete ratio and a wide variety of activities create a fun, dynamic team environment and instil a lifelong love of the sport.
The objective is for the participants to become technically competent cross-country skiers and to utilize their skills to explore a wide range of cross-country ski activities, from back-country excursions to Ski Tournaments.  In addition, it is designed to:
Fitness! Fun! Teamwork!
Provide children with an opportunity to be part of a sports "team"
Improve ski technique through drills and careful input from qualified coaches
Utilize games, relays and terrain parks to develop technique, speed, skills and fitness
Explore and enjoy fun off-trail ski activities
Learn how to wax skis
Nurture a team/social atmosphere
Introduce competition in a team environment whenever possible
Learn how to race with confidence
Encourage "inter-club" social, skill and fitness-orientated ski activities
* "Inclusiveness" is an SLNC value and priority. Instruction for children with special needs is part of all Jackrabbit programs. Please contact the Programs Coordinator to discuss any special needs that your child has so that we can schedule appropriate instruction.
* An SLNC season pass is required for participants in this program
Track Attack 1
Track Attack 2
Track Attack 3
Notes
Dates
Nov. 26, 2022-Mar. 11, 2023
Nov. 26, 2022-Mar. 11, 2023
Nov. 26, 2022-Mar. 11, 2023
 No sessions

(TBD)

Total # of sessions
12
25
40
Sessions/wk.
1
2
3
Days
Saturday 10-11:30
Tuesday 18:00-19:30

Saturday 10:00-11:30

Tuesday 18:00-19:30

Thursday 18:00-19:30

Saturday 10:00-11:30

The cold weather cut-off for "Track Attack″ is  -15*C.
Cost
$120
$250
$400
Registration Deadline
October 31 or whenever program capacity is reached (whichever comes first)
October 31 or whenever program capacity is reached (whichever comes first)
October 31 or whenever program capacity is reached (whichever comes first)
No formal programming: Dec 19-Jan 2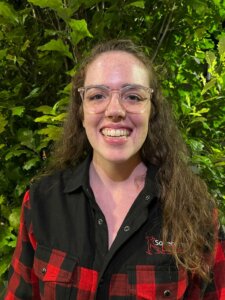 SDP Coach: Deirdra Frank

Deirdra grew up in Vernon skiing with her parents and has been part of the Sovereign Lake ski community for many years. She started out as an athlete on the cross country and biathlon teams, competing in numerous races and events as part of the SLNC Ski Team. Following her younger years of racing, she has worked at Sovereign instructing in our S'Cool Ski Program and as lodge front counter staff. More recently, Deirdra was co-leader for two seasons on the growing WinterFit Program at Sovereign Lake. Deirdra's love for this sport has only ever grown throughout the years. She is happy to combine sports with her business management degree. "Sovereign Lake is like a home away from home for me."
Track Attack Volunteer Coaches
Kevin O'Connor
Coaching Experience:  10-plus years.
Favorite Trail: The loopet loop or Aberdeen to coming around the mountain.
Fun Fact. I learned to ski when I started coaching.
Marta Green
Coaching Experience: I've coached since I graduated from UBC Vancouver and stopped racing for the varsity team. So 20 years this year: four years at Hollyburn Ski Club and then 16 at Sovereign!  I just love how technical the sport is, and how it's a lifelong pursuit!
Favorite Trail: Silver Queen! I always look forward to that trail opening!
Fun Fact: We have four egg-laying hens in our backyard: Lilli, Lucy, Penny, and Rosie: yay free eggs!
Corey Bird
Coaching Expereince: 5 years
Favourite Trail: Silver Queen
Fun Fact: Your skis are more fun when they are waxed ;)
Eric Wikjord

Coaching Experience: Coaching since 2003
Favorite Trail: Jessica's Trail
Fun Fact: Klister skiing when it's cold is super fun.
Aaron Heidt
Coaching Experience: 7 years
Favorite Trail: Silver Queen
Fun Fact: Every year on my birthday I ski all of the perimeter trails at Sovereign and Silver Star.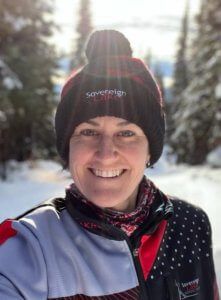 Head Coach: Jacqueline Akerman
A career ski and biathlon coach, Jacqueline has been involved as a high-performance coach for 25 years in a professional capacity. The Canada Winter Games started her off as both an athlete then a coach. As a former head coach of the Camrose Ski Club and Augustana University teams, she brings extensive and diverse experience to our programs. Jacqueline, a former Jr National Development Biathlon Team athlete, transitioned into a long-term leadership career with Biathlon Canada, coaching athletes, national and junior national teams at all levels, at countless national and international events, including Youth Olympic Games, four University Games, multiple World Cups, and Championships. Her role as Coach and Athlete Development Manager and Master Coach Developer has laid a foundation on which to build a strong training environment and talented athletes. Jacqueline is a member of Nordiq Canada's – Coach Technical Committee, proudly serving our members across the country. She has an undergraduate degree in Physical Education and a Master's degree in Coaching.
Sport has always been a focal point for Jacqueline – starting as a distance running athlete then skiing and biathlon, Jacq has a passion for the pursuit of excellence for herself and those around her, this laid the foundation to be an incredibly skilled coach. "I learned from a young age that knowledge and long-term excellence come from hard – smart work, dedication, and patience. That the key to success in sport and in life is enjoying the work of continual improvement in technical, tactical, physical, mental and life skills, the best athletes are those that are very well rounded and love the pursuit of excellence through sport".
Ski equipment and ski preparation tips for Track Attack – click here.
Winter Safety for Track Attack – click here.
My Trail Etiquette Promise – click here.
Equipment needs:  Classic and skate equipment are needed for Track Attack
Equipment Sources:
Rentals –Program participants can utilize our season rental program.  A full selection of quality, affordable, classic and skate gear for all ages is available at SLNC.  Please email [email protected] to secure skis.
Retail – Stussi Sports in Vernon provides an excellent selection of gear with advice to match. They also have a rotating "kids gear exchange" program and info on ski swaps. They are a huge supporter of our club, programs and events.
Facebook: Sovereign Lake Programs Gear Swap
Q. Where do Track Attack sessions take place?
Track Attack meets in the stadium. Skiers typically warm up on the Saddle loop before reviewing skills in the stadium or heading out onto the trails.
Q. How long are Track Attack sessions?
Track Attack sessions are an hour and a half long.
Q. What does a typical Track Attack session consist of?
Coaches use large and small groups, games, drills and longer continuous skiing on all types of terrain to reinforce skills and encourage natural learning. Group sessions generally include warm-up, review and instruction of key skills, a continuous ski and relays to improve fitness, with ski play/games to wrap up.
Q. What is the split between classic and skating sessions?
50/50. There is roughly the same number of classic and skating sessions. A full schedule for the winter is posted well in advance so that you know which technique occurs on which day.
Q. How do I learn more about waxing & what waxes I should have for my Track Attacker?
A list of recommended waxes will be provided at the beginning of the season. Advice and basic wax instruction are delivered to Track Attack skiers as part of their programs. Introductory through advanced wax clinics are also available to the public through Stussi Sports in Vernon. Contact your coach or Stussi Sports for details.
Q. Do children race at this stage?
Yes, opportunities to race are offered and encouraged. Appropriate competition formats (relays, obstacle courses, sprints, individual challenges) are an integral part of the program as they play an important part in athletic development. Coach support at races is included in the program through participation in:
SLNC Best in Snow
Local, Regional and Provincial races (Okanagan Cup, BC Cup and BC Championship races).
Q. What is the cold weather cancellation policy?
The cold weather cut-off for "Track Attack″ is  -15*C.
Q. Is there a wrap-up event at the end of the program?
The formal season ends with participation in the Best in Snow in early March. We also have a post-season Track Attack barbeque get-together as well, usually in late March or early April.
Q. Will my Track Attack skier make good progress by skiing just 2-3x/wk in formal sessions?
Every athlete (and parent) progresses at their own rate. While Track Attack sessions provide great coaching and opportunities to learn, your child will improve quicker the more you get out!  We strongly encourage parents to take full advantage of our fantastic snow and trail system by getting out at least one other time during the week with their kids. A family ski on Sunday works well for many families. Many families share driving responsibilities mid-week as well.
Q. What opportunities are there for my child to "move up" to the next level(s)?
We do our best to place every child at a level that serves their current abilities and challenges them sufficiently to improve. Coaches strive to communicate with each other regularly and make adjustments when appropriate and practical. Some Track Attack skiers may be getting ready to move up to Junior Development and will be offered opportunities to join in.
Q. As a parent learning to ski…how can I help/keep up with my own Track Attacker?
Ultimately, parents/guardians will often be the ones taking their own youngsters skiing outside of session times. We can assist parents in understanding the technical skills and share ideas on how to facilitate their child's learning.  If you need help improving your own skiing, then consider talking with our staff to arrange a group or private lesson(s) with our well-qualified instructors!
Q. Do parents/guardians accompany their children during Track Attack?
No. By this stage children are skiing independently during sessions, in small groups led by certified coaches.  BUT, we do need and want your help as all youth programs run on parent volunteers! Read on…
Q. What kind of help does the club need and how can I pitch in?
It takes many volunteers to run club programs and activities. We need your help with:
Coaching – introductory and community coach workshops are provided and paid for with support and mentoring along the way for all coaches in our programs.
Coordinating programs – registration, refreshments, hot chocolate table, pizza night…
Equipment set-up – hoops/balls/props, playground maintenance, special events…
Races – timing, stadium & course set-up, marshalling, traffic control, bib gathering…
Other – everything big & small happens because people pitch in – please just offer or ask us!
Q. Are coaches certified?
Yes. All our volunteer coaches are certified with NCCP standards.