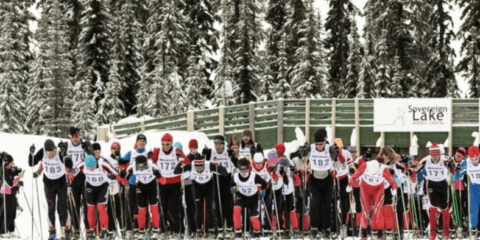 March 14, 2020 @ 12:00 am
-
7:00 am
The Sovereign "Best in Snow" Loppet
DATE: Saturday, March 14
COST:
-$16 Pre-register online
-$20 Day of registration
REGISTRATION & BIB PICKUP:
-Pre-register @ www.webscorer.com (Registration will go live on February 1st)
-Day of race registration only between 8am-9:30 am at the Race Office on Saturday, March 14
LOCATION: Sovereign Lake Nordic Centre, Vernon, BC
START TIMES: 10:00–> 1 km, 10:05 –>2km,  10:15–> 5, 10, 15 and 30km
HOST CLUB: Sovereign Lake Nordic Club
TECHNIQUE: Free Technique
CONTACT: [email protected]
2019 'Best in Snow' times 5k 10k 15k 30k (results)
Congratulations to the 'Best in Snow' athletes!
All skiers were timed in their events, follow the link above.
Under the event distance, click the green category to see all results.
We hope everyone had a wonderful day!
Thank you for taking part in the 'Best in Snow'
-Pre-register online before March 14th @ www.webscorer.com
-Day of registration will take place in the race office on the morning of March 14th from 8 a.m. until 9:30 a.m.  Day of registration is by cash only and exact change appreciated.
-All athletes registered in Sovereign Skill Development Programs (JD, TA, JR, Bunnies) receive a free entry.
Thanks!
Event Navigation