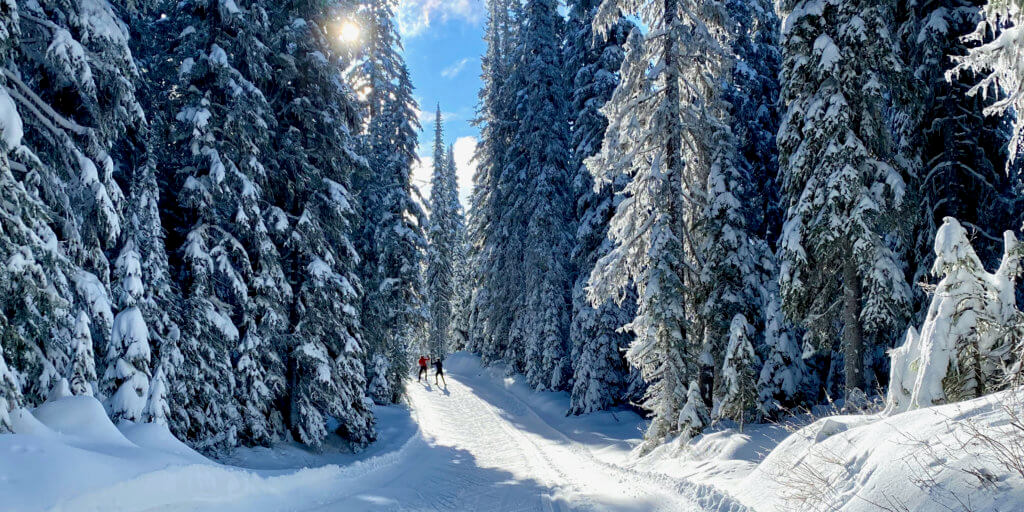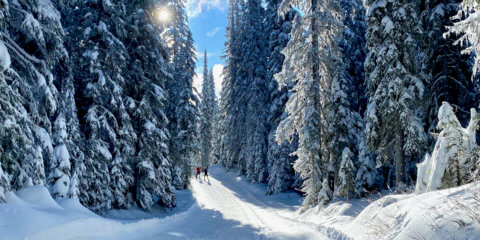 Virtually Sovereign: the Fast and the Curious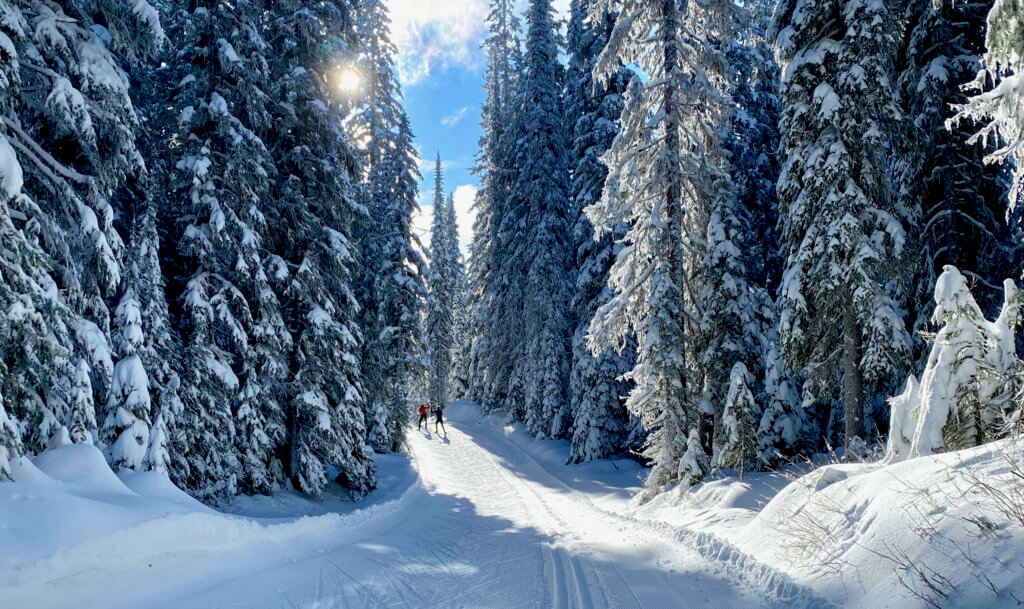 Looking to challenge yourself in a challenging ski season?
We are offering club members two options for fun on our home trails: the Fast and the Curious.
'Fast' is a relative term. It could be skiing faster than your friends. It could be skiing faster than you did last month. It could be skiing a course to set a standard to improve on. This series is timed, but there are no prizes for skiing the fastest, just draw prizes for turning up.
'Curious' is about exploring possibilities. Skiing new trails. Skiing further. Exploring loops chosen to help skiers progress. When you enter your results, there is no place to record the time, but there is a place to upload photos from your ski. Draw prizes will be awarded to finishers each week.
Both series start with the same 10km course. In honour of club member Hannah Mehain who was selected to represent Canada at the Under 23 World Championships in Vuokatti (Finland) this February, we are starting with one of the events she will fly the flag in. Our course is much less hilly and won't be cluttered up with the best young skiers on the planet.
Feeling inspired? Donate to Hannah's fundraiser to help cover the cost of representing SLNC and Canada to the world.
All participants will have to follow the safety rules, including group size, physical distancing, and being polite to all trail users.
Registration is open and free to club members.
Sponsored by Stüssi Sport, Fischer, and Swix
This series can only be offered if the participants follow the rules set by the Provincial Health Organization, ViaSport, CCBC, BC Parks, and the club.
Our club skews older, with a very large number of members in the 60+ age group, and we need to keep our members, staff, and guests safe.
These rules include:
Travel is only allowed to your 'home' ski area. To comply with both this and Canadian privacy laws, we are restricting entry to SLNC members only. (Not from this club? Find out how to host your own series here.)
Groups can be no larger than four (4) skiers and all skiers must maintain 3m physical distancing unless every member of the group is from the same household. The maximum group size has changed twice during the planning process and may change again before the series is over.
These are NOT races and the courses are NOT closed. Participants have no special rights to the trails and may be banned if they ski dangerously or rudely amongst the general public.
'Fast' courses are only open on weekdays when the club is open. Bring a headlamp if you come during night skiing as the courses are mostly away from the lights. This is a major inconvenience to club members who work regular hours, but it is what we can do safely.
'Curious' courses are open from Tuesday to Sunday.
Registration is required. Participants must provide their RFID code (the group of letters and digits on your season pass) and agree to follow the rules.
All skiers must check in every day they ski, including the days they are completing these courses.
Masks must be worn in any building.
In this pandemic season, there will be no loppets, no races, no 'getting people together'.
What we have instead is a series of six courses, each with a five-day window to ski your 'best' time. Registration is open and free.
January 18 to 22: 10km test. Choose between Skate, Classic, and Double Pole. Inspired by our very own Hannah Mehain who will race this distance at Under 23 World Championships next month. The course is very similar to the start of the loppet course. You can download the gpx file for the course from TrailForks or Strava.
January 25 to 29: Climb On. A hillier loop slightly under 20km long.
February 8 to 12: Skiathlon. Ski one loop of classic and another loop of skate, scored by the combined time. You can ski the two loops continuously, or on separate days, or find a partner to share the load.
February 22 to 26: Something different. Something fun. But no details until we figure out how to time it using Strava.
March 9 to 14: Loppetish. Ski the 30km loppet, or the 15km half loppet, but without the crowded start. Or maybe we will use the older loppet loop from 2010 and earlier. Or maybe we will do a poll of registrants to choose the course.
March 30 to April 4: Epic. After building fitness all season, here is the ultimate challenge. Ski 50km in a single session. Or ski the 25km loop twice on different days. Or ski the 25km loop once. It doesn't really matter which as your odds to win a draw prize don't change.
Times will be recorded using Strava. You can sign up for a free membership and upload your GPS track recorded on your phone, your sports watch, your Fitbit, and many exercise tracking websites. The Strava activity must be made public to allow us to see your result. Results will be posted to the Virtually Sovereign: Fast 'club' in Strava, look for your invitation after you register.
Note that Strava allows the organizing committee to detect oversized groups starting together, finishing together, or just skiing together mid loop. Skiing in too large a group will get you disqualified from the course, the entires series, or possibly lose your skiing privileges depending on serious the violation is.
While the purpose of this series is to test yourself by skiing 'fast', remember that the trails are open to the public. There are no special rights or privileges for participants. Rude behavior or endangering other trail users will have consequences as above.
Course details will be shared as printable maps as well as .gpx files you can upload to your watch or phone. Courses will be posted shortly before the first day they are open.
Ski some of the Trails, Ski All of the Trails, Ski Fast, Ski Far, Ski For Prizes, Ski for Kudos, Ski for Joy.
This is about having fun exploring our trail system.
Each week, participants will fill in a form on zone4 to show when they started that week's course. There is no place to enter a finish time or an elapsed time. If you want to compare your speed to others, check out the 'Fast' series.
There will be draw prizes each week for completing the course, best photo, and anything fun that the organizers think of. There will also be some larger prizes for attendance.
Course details will be shared as printable maps as well as .gpx files you can upload to your watch or phone. Each week, a new course will be sent out to registered participants.
Registration is open and free.
January 19th to 24th: 10km Inspired by our very own Hannah Mehain who will race this distance at Under 23 World Championships next month. Our course is gently rolling.. You can download the gpx file for the course from TrailForks or Strava, or print this map.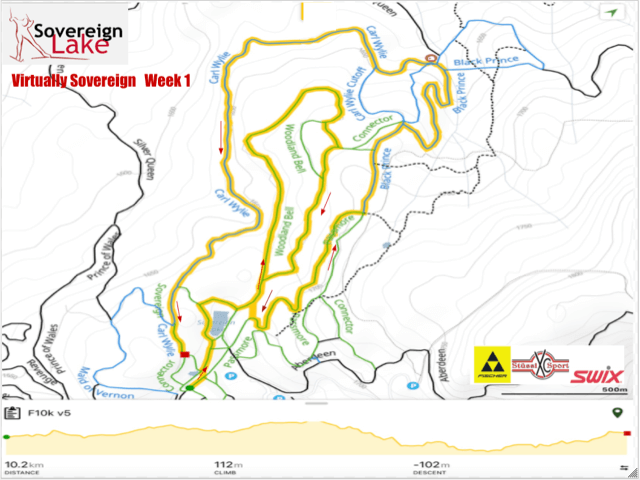 Event Navigation