PRESS RELEASE: August 26, 2021
We are excited to introduce Jacqueline Akerman as the new Head Coach for Sovereign Lake Nordic Club.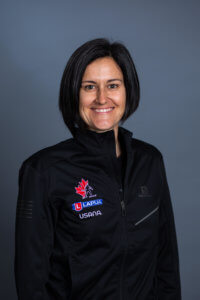 Having lived in the Ottawa Region for most of her working career to date, she made the move out west just weeks ago to take up residence in Canmore at the National Training Centre and Head Office of Biathlon Canada. After some headhunting by former coach Eric de Nys, Jacqueline agreed to a conversation with our General Manager and the rest is history!
"From our first conversation and throughout the interview process, I just felt as though Jacqueline was immediately the right person for the job. Her incredible passion and excitement for skiing, knowledge of our sport, and connection to not only the XC ski community but also the Biathlon community made complete sense to bring her on board as the new leader of our Programs Team", said Troy Hudson. "Jacqueline will be starting her new position here in October so we have some time to bring her up to speed through our Programs Advisory Team to be ready for winter and our first competition here, on Dec 4-5th at the Canada Cup"
Jacqueline (Jacq) stated, "I am incredibly pleased to join the Sovereign Lake Nordic Club Family! I see an amazing community full of support, skill, and passion. SLNC has an exceptional amount of enthusiasm, talent, vision, and momentum. I am proud to be chosen to be part of the team, and I look forward to continuing to build from the foundation of so many before me. I can't wait to meet you all and put on that plaid for the very first time!"   
Board Representative and Programs Director Cyndy Flores also had some kind words following our interview process. "The SLNC BOD is excited to welcome Jacqueline and her partner Annik to the Sovereign family. The BOD was very impressed with her qualifications and coaching philosophy and unanimously approved the offer to Jacqueline.  Choosing a Head Coach for our Club is one of the biggest decisions we can make as a BOD and we truly feel Jacqueline is the right coach that will help guide the sports development here at our club and fulfill our strategic objectives of growing competitive and non-competitive programs for our members and families."
We are looking forward to an amazing winter at Sovereign Lake! With Jacqueline at the helm, we now have a complete Programs Advisory Team. She is joined by Mike Bell (Master's Lead Coach), Andrew Casey (Skill Development Lead Coach), and Lynn Algra (Biathlon Coach).
Bring on the snow!