–
The second annual Sovereign to SilverStar Ski Marathon has successfully completed with 70% more registrations than in its inaugural year.  With over 600 participants, and 800 entries over the two days of event the S2S has already grown into Canada's 3rd largest loppet and the biggest in BC.  This partnership event between Sovereign Lake Nordic Club and SilverStar Mountain Resort managed to raise $11,500 for Kidsport Vernon this year. Kidsport is a local charity that provides grants to cover the costs of registration fees so that all kids aged 18 and under in Greater Vernon can play a season of sport.
Skier's ages ranged from 8 to 83 and came from all over North America to participate.  Yellowknife Ski Club won the Club Competition based on participation and distance travelled, resulting in a large plaque and $2000 to the club.  The Sovereign 2 SilverStar Ski Marathon was also the culmination of the Pacific Northwest Loppet Series.  The overall winners for the Series were: Women: 1st Suzanne King, 2nd Maureen Clement, 3rd Daphe Brown; Men: 1st Mikhial Kudienko, 2nd Kent Murdoch, 3rd Dan Packman
Winners over the weekend:
Saturday: Skate 21k Men: 1st Lex Hostyn, 2nd Brian Brush, 3rd Simon Lapointe; Women: 1st Natalie Wilkie, 2nd Erica Casey, 3rd Rhea Loiselle. Skate 40k Men: 1st Luke Jager, 2nd Scott Hill, 3rd Jack Carlyle; Women: 1st Novie McCabe, Olivia Bouffard-Nesbitt, Katherine Stewart-Jones
Sunday: Classic, 21k Women: Ayla Musselman Bell, 2nd Sarah Johnson, 3rd Laura Salmon; Men: 1st Craig Demars, 2nd Rowan Musselman Bell, 3rd Michael Brewster.  Classic, 40k Women: 1st Novie McCabe, 2nd Olivia Bouffard-Nesbitt, 3rd Dahria Beatty; Men: 1st Julien Locke, 2nd Luke Jager, 3rd Scott Hill.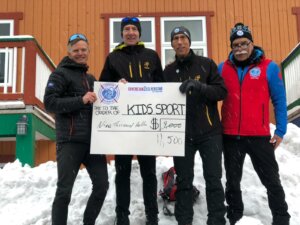 Image (credit Cynthia Flores) from left to right:
Marcus Boyle, Sovereign 2 SilverStar
Shayne Wright, Kidsport
Doug Ross, Kidsport
Pat van Mullem, Sovereign 2 SilverStar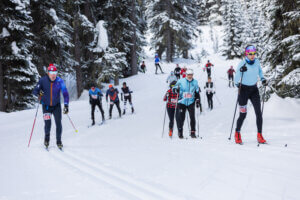 Image of Event (credit Nathaniel Mah).
–