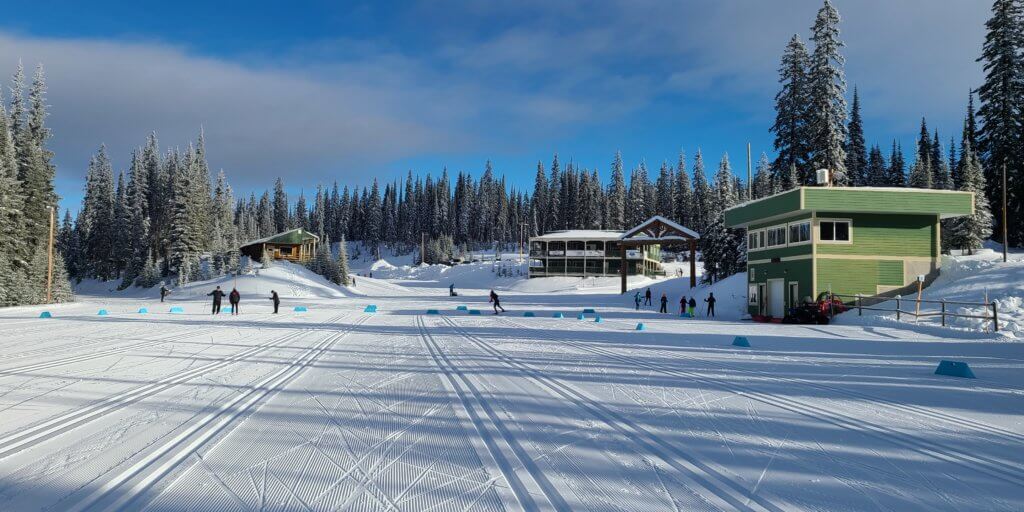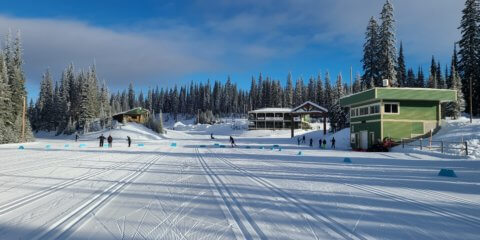 Spring Fling is Back!
Sovereign Lake is celebrating one of our largest snowpacks in recent memory.
With almost 6m of total snowfall this winter and over 200cm on the ground, we have LOTS of snow to jump-start your 2023-24 ski season.
Join us May 4th to 7th for 4 days of fantastic skiing. The lodge will be open from 7am to 2pm each day. Ski storage is available downstairs in the lodge overnight. We will be hosting a fun race on Saturday please sign up online, the cost is $5. Registration is now open! There are no lessons or formal camps taking place. This is an opportunity to get in one last ski experience of the season on groomed trails or start off your new training season with a bang. We will have roughly 12-15km of skiing open daily.
Online Registration Deadline: April 30th, 2023
Price: $21 online or $25 at the door
Accommodations Partner
Event Page
Registration Link
We hope to see you out there on the snow. All SLNC Passholders are required to pay for these additional ski days as it is a separate event on the Calendar and outside of our operating season. This is a cost recovery event as we need to prep grooming and maintain trails up to the camp date.
May 4: 7am to 2pm
May 5: 7am to 2pm
May 6: 7am to 2pm
May 7: 7am to 2pm
The PushUp Double Pole Time Trail is back for 2023!
Course: Woodland Bell (not FIS homologated) It's really flat.
Distance: 5'ish km
Technique: Double Pole ONLY (Youngens can stride on classic skis, if 12 or under)
Cost: $5/each
Participation Random Prizes: 3 SLNC Insulated Jackets (Valued at $110 each) and maybe some other stuff we didn't sell this winter.
How it all works:
Come to the lodge by 9:30AM on Saturday to collect your race bib from the table. Say hi to Wendy, our Operations Manager. She is really nice.
Show up at the Start line in the Stadium before 10 AM. That's when the race starts.
Individual Starts – Seed yourself. We 100% trust that you can count.
On the start line, you must pull a spoon from the cup held by our FIS TD and outgoing General Manager, Troy Hudson. He is also occasionally nice.
Each spoon has a number between 0-10 on it. Oh yeah, you do not have skis on yet.
Read said spoon, and complete the appropriate number of pushups before getting on your skis and skiing off onto the course.
Once the skier in front of you crosses the 5m line off the start, the next skier draws a spoon, and so on, and so forth until Troy has nothing left to do at the start line.
The winner will have the shortest recorded ski and pushups time. Drawing a 0 or 1 is highly beneficial to your overall result.
Awards will be handed out once everyone has finished and will be randomly drawn from our race participants.
Each participant will receive a commemorative piece of 2020 National Championship swag that never happened thanks to COVID.
A King and Queen will be proclaimed based on race times. They will get a picture taken of themselves in our Game of Thrones (knockoff) ski chair to show off and

will also win a free event entry for both events in the 2023 Canada Cup taking place in December. 
–
Extra Race Notice Notes: 
Don't cheat. Your friends and peers will call you out in front of everyone. Double Pole in the designated tracks, only.
Have fun, this is May and the first race of the 2023/24 ski season.
It might rain on Saturday, please bring lots of spare clothes to stay toasty.
Check out SilverStar Stays, our race team sponsor for some great accommodations options in town and on the mountain at Silverstar.
Event Navigation