When one thinks of Sovereign Lake you rarely think Brew Pub but on February 6th we transformed the downstairs of the lodge, the old day lodge and the race office into three micro-breweries showcasing boutique brews from Iron Road (Kamloops), Taylight Brewing (Port Coquitlam) and Whitetooth Brewery (Golden).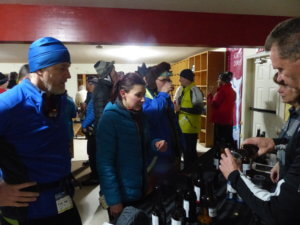 Iron Road Brewery showcasing some beauties. Their IPA is the bomb! 
As the clock struck 7 pm hoards of skiers and beer lovers launched into the lodge in anticipation of trying 3oz samplers of 12 unique frothy beverages. From Lagers to Porters event goers were treated to some exceptional tasting bevvies.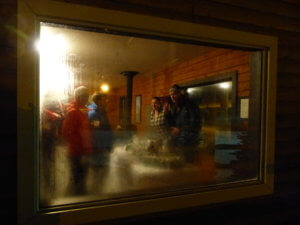 Taylight Brewery showing off their delicious Root Beer Porter.
This is the second running of the BeerCanBeiner event, an homage to the Norwegian Birkenbeiner Ski Race which is hosted annually with an excess of 10,000 skiers. While we were a few shy of 10,000, we did have almost 80 hearty cold-loving skiers from throughout the community join us. With temperatures dipping to -20 by event time were worried that we should have postponed but only 3 people did not show up out of 82.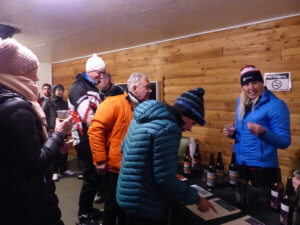 Jenn Hyde reps Whitetooth Brewery for the evening. The LaunchPad Rye Ale was a standout that evening. 
We are so pumped with the great response to the event this year that we are already chatting about next years event. If you are a beer fan and didn't attend, we will most definitely run the BeerCanBeiner again in 2020. Huge thanks go out to our volunteers, staff, beer vendors and guests for making this event such a good one. For the three weather wimps…you sure missed out.
To check out the full selection of beers that were being poured go check out the event page HERE. If you want to see more of these events happen then get ahold of us and bring your idea to fruition. We are always looking at ways to bring more fun to the club and no one will argue that this was a super fun night under the lights of Sovereign.