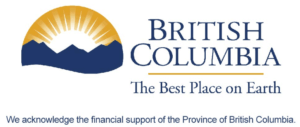 SLNC is excited to announce that we have been awarded a $230,000 Capital Projects Gaming Grants to be used towards the purchase of our new PB400 snowcat. This application was submitted last July and was recently attained after the second round of grants were awarded to 2018 grant applications.
These funds are allocated to the purchase of our new snowcat of which the club has already raised over $80,ooo in the last month and a half. This puts the club in a much better position to finance the remainder follow the addition of year-end profits to the purchasing fund.
There is still time to contribute to the purchase of this new machine. Follow THIS LINK to our donations page.
Sovereign Lake Nordic Nordic Club proudly acknowledges the financial support of the Province of  British Columbia via the Gaming Policy and Enforcement Branch.