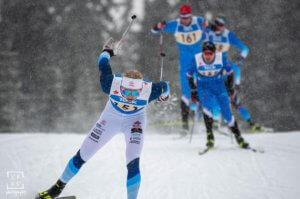 CANMORE, Alta.—The 2022-23 cross-country skiing race calendar in Canada will open on familiar trails for Canadian athletes at Sovereign Lake Nordic Centre (November 30 – December 4) and culminate with a newly refined look to the Nordiq Canada Ski Nationals in Thunder Bay, Ont. (March 11-17).
Nordiq Canada announced a finalized schedule on Thursday that will showcase the sport at all levels while leading all Canadian athletes in the system to some of the top ski trails across the country for Canada Cup, Nordiq Cup – Continental Cup (COC) Series, and US Super Tour races.
"This winter's event lineup will provide high-quality, competitive development race opportunities for a new generation of skiers who are at various stages in our system," said Julie Beaulieu, sport development director, Nordiq Canada. "Hosting major events for athletes in all corners of Canada is critical to the continued growth of our sport and for developing a new generation of Canadian cross-country skiers into elite international athletes in our sport."
The season-opening events will be staged at Sovereign Lake Nordic Centre. Originally scheduled for Canmore Nordic Centre, the first events of the season – Nordiq Cup and US Super Tour races (November 30 – Dec 1, 3, 4), and Western Canada Cup (Dec 3 -4) – will take place near Vernon, B.C.
"We are absolutely thrilled to have the opportunity to support the development of our athletes while bringing our ski community to many of the top Nordic venues in Eastern and Western Canada as we launch a new Olympic and Paralympic quadrennial together", said Chris Jeffries, high-performance director, Nordiq Canada.