If you haven't heard by now, the Amazing Race Canada, came to Sovereign Lake this past spring to shoot an episode of the incredibly popular reality TV adventure race series which travels across the country pitting ten teams of two against each other in an effort to win the grand prize.
We are extremely excited to have been chosen to be a host site for one of the challenges and you can see all the action on August 9th on CTV when the series shot a day of adventure here in Vernon.
The weather played out perfectly with snow, rain, and sunshine…all within one hour of each other. Typically May weather at the ski area. It is going to be an amazing show and we had a wonderful team of Academy athletes and coaches assisting with putting the show on.
Tune in and be a part of the action!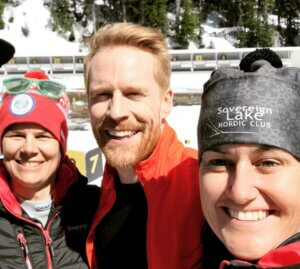 John Montgomery, Canadian Skeleton Olympian and host of Amazing Race Canada, took a break from shooting for a pic with our coaches Annik Levesque and Jacqueline Akerman.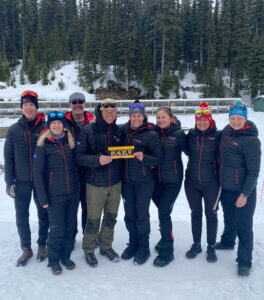 SLNC GM Troy Hudson has been working on this project since 2018. COVID suspended the race the last two seasons but we had amazing conditions this spring to host this skiing portion of the event. Thanks to the entire team of volunteers, athletes, and coaches for making those two days of filming a HUGE success.