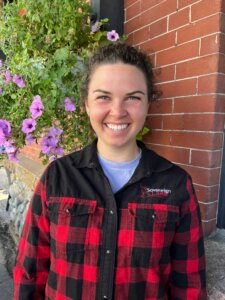 Jessica began her nordic ski career with Team Hardwood, based in Ontario and ended it as the top Ontario Senior Woman skier in the 2019/20 season. Following her successful ski racing career during high school and university, and being able to compete in Scandinavia and throughout North America, it was time to shift focus from competing to coaching. Having the mentorship of her coach Jack Sasseville, she always knew she wanted to give back to the sport by coaching. Once retiring from racing, Jessica moved to BC and was the Head Coach at Nickel Plate Nordic Center near Penticton for the past two years. This past season she also coached for TeamBC CCBC at the Canada B-Tour and US SuperTour in Lake Placid, New York and Craftsbury, Vermont.
While training in Ontario, the Master's race team trained and raced alongside the younger athletes. With this unique experience and coaching the Master's Team at Nickel Plate, it was clear that she loved working with Masters athletes. When the opportunity at SLNC was presented, she jumped at the chance!
"SLNC is a spectacular ski facility and community, not to mention an amazing surrounding area".
Jessica loves all the biking and skiing that is so close by and cannot wait for the snow to start falling.
We are really excited to have Jessica join the Sovereign Coaching Team with her extensive racing experience and a keen interest in working with adult skiers on our new Masters Performance Group and Masters Race Team Programs. She will help oversee all Masters Development Programming with the club and act as the Master's Lead Coach on our Programs Committee as the representative of nearly 300 adult program participants.
Welcome Aboard, Jessica!!!